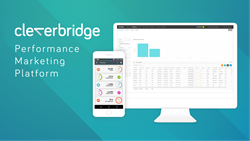 "Our Performance Marketing Platform provides everything you need to drive the greatest volume of sales and growth from partnerships, ultimately resulting in more site traffic, more customers and more revenue." ~ Jessie Adamczyk, Director of Digital Marketing Services, cleverbridge
COLOGNE, Germany (PRWEB) July 25, 2018
cleverbridge, a provider of ecommerce and subscription billing solutions for monetizing digital goods, online services and SaaS, announces the launch of its new Performance Marketing Platform. Leveraging Partnerize's partner and affiliate marketing solution, the new platform enables advertisers to onboard, track, optimize and pay any type of publisher – from a Fortune 500 brand to a niche blog – for advertising their products or services. The platform is available immediately as either a self-managed or managed service, the latter of which offers cleverbridge's additional strategic marketing, campaign execution, and creative services expertise to help clients boost online traffic, customer acquisition and overall revenue.
The cleverbridge Performance Marketing Platform is powered by Partnerize's partner marketing solution, which supports the world's top subscription, retail, travel and financial services companies and drives more than $6 billion in revenue annually across more than 300,000 partners in 214 countries and territories. The highly-scalable platform offers clients flexible partner and affiliate management capabilities, real-time performance measurement and analysis for web and mobile conversion, and payment processing and settlement in 60 currencies. In addition to the Performance Marketing Platform, clients also benefit from cleverbridge's deep industry expertise, diverse publisher network with a special focus on digital goods and services, and its ability to design superior reward strategies for publishers.
"Our clients' success is our success, which is why we continuously help them acquire and build long-term customer relationships with shoppers who fall outside the scope of their direct marketing," said Jessie Adamczyk, Director of Digital Marketing Services, cleverbridge. "By collaborating with Partnerize, we're able to provide clients with best-in-class solutions to measure, optimize, and reward marketing partner and publisher performance, along with our vast experience in establishing profitable relationships with top-performing publishers that enables performance marketing success. Our Performance Marketing Platform provides everything you need to drive the greatest volume of sales and growth from partnerships, ultimately resulting in more site traffic, more customers and more revenue."
"Having used multiple traditional networks, we're incredibly impressed by the new Performance Marketing Platform's real-time performance tracking and measurement and the granular data and insights that help with budgeting and optimizing our online campaigns," said Vlad Vysotskyi, Affiliate Manager, Kromtech. "As a long-time cleverbridge client, we're excited about the possibilities of the new platform as we continue to grow and expand our business across the globe."
With cleverbridge's Performance Marketing Platform, advertisers can:

Gain actionable insights – Measure and analyze campaign and performance data across channels to make data-driven optimizations to offers and rates in real time. Identify which publishers sell at specific points of the sales funnel; which publishers bring the most/least value; and how to optimize for maximum customer lifetime value.
Predict future performance – Leverage predictive analytics to accurately predict future partner performance for greater visibility and cost certainty with Partnerize's industry-first Performance Forecaster. Receive real-time alerts for anomalies in program data that may indicate problems or opportunities that warrant immediate attention.
Incentivize publishers – Design multi-tiered reward systems to compensate publishers at every stage of the sales funnel with multi-touch attribution, and commission higher rewards for more profitable conversions or sales. Optimize marketing activities based on which touchpoints and channels drive business impact and sales.
Consolidate networks – Centralize programs to minimize workload, expand branding opportunities, and make tracking performance much simpler and consistent. Direct an unlimited number of campaigns, commission structures, and programs, and automate commission calculations, payments, and settlements.
cleverbridge will demonstrate the Performance Marketing Platform at Affiliate Summit East 2018, to be held July 29-31 in New York. For more information on how cleverbridge's Performance Marketing Platform can help your business grow globally, please visit https://cbridge.to/performance-marketing.
About cleverbridge
cleverbridge provides ecommerce and subscription management solutions for monetizing digital goods, online services and SaaS. Our cloud-based ecommerce platform simplifies recurring billing, optimizes the customer experience and offers comprehensive global compliance and payment capabilities. Leveraging cleverbridge expertise, technology and services, our B2C and B2B clients acquire more customers, improve retention and grow their revenue in international markets. cleverbridge is headquartered in Cologne, Germany with offices in Chicago, San Francisco, Tokyo and Taipei. For more information, visit http://www.cleverbridge.com.
About Partnerize
Partnerize helps the world's leading brands build powerful business partnerships that drive extraordinary business growth. The Partnerize Partner Management Platform (PMP) is an end-to-end, SaaS-based solution for forming, managing, analyzing, and predicting the future results of partner marketing programs using artificial intelligence. Hundreds of the world's largest brands leverage our real-time technology to manage more than $6 billion in partner programs and financial exchanges across 214 countries and territories worldwide. Partnerize is the trading name of the Performance Horizon group of companies. To learn more about Partnerize and partner marketing, visit partnerize.com.