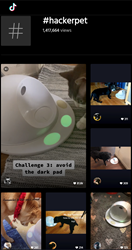 hackerpet enables humanity to begin realizing dogs' and cats' full potential.
SAN DIEGO (PRWEB) July 10, 2019
CleverPet, maker of the first and only game console for dogs and cats, today announced the release of hackerpet, an enhancement of CleverPet's flagship product, the CleverPet Hub. The Hub, designed by PhDs in the cognitive sciences, works by engaging and entertaining dogs and cats with light, sound, and touch-based games, providing food rewards to teach dogs and cats to succeed at games that get more challenging over time. With today's announcement of hackerpet, enthusiasts are now able to transform their Hub into a fully programmable and customizable platform for creating, modifying, and sharing new games and interactions. hackerpet gives customers full control of the Hub's hardware, as well as access to CleverPet's previously proprietary training algorithms, under the open source AGPL license. Because hackerpet is built on the Particle build platform, adding new or customized games to the Hub can be done from a web browser without writing a single line of code. A community of users is already actively developing with hackerpet, and has created games that integrate with smartphones and external hardware.
"After getting CleverPet into customers' hands we learned that what people love most about it are those 'aha!' moments when their dog or cat figures out something new," said Leo Trottier, CleverPet's CEO. "With hackerpet, we're enabling users by giving them a toolset for discovering who their dog or cat really is. We designed it so you can go from zero to having a new working electronic game for your dog in as little as 30 minutes, letting you spend your time actually training your dog or cat to play. We've made the coding the easiest part — making a game for your dog or cat is probably 1000x easier than building a useful smartphone app."
The release of hackerpet represents yet another shift in the pet industry toward the value of realizing dogs' and cats' untapped potential. The pet industry has historically not taken seriously the idea that dogs and cats can learn or that they possess vivid mental lives. This has changed in recent years, in part precipitated by the landmark discovery of Dr. John Pilley in 2007. With his dog Chaser, Dr. Pilley showed it was possible to teach a dog simple phrases and the names of more than a 1000 objects, demonstrating just how little we know about the animals millions of us live alongside. "We're open-sourcing CleverPet because we believe that those who have dogs or cats know that there's a lot going on in their minds," noted Trottier. "We literally have no idea what these animals we live with can do. By engaging a community of curious enthusiasts — makers, pet hackers, tinkerers — we're looking to find this out."
The hackerpet platform consists of:

CleverPet's complete training curriculum, updated to make it simple to understand and modify, and AGPL licensed to promote sharing, along with instructions on how to get started
a software library that provides direct access to the CleverPet's physical interface, including detecting whether a touchpad has been touched, providing food rewards, adjusting the touchpad lights, etc.
CleverPet's new Reports pipeline, enabling real-time data capture and visualization from the Hub via a user's own online spreadsheet
a community of enthusiastic "pet hackers" creating new games, adding custom hardware peripherals, setting up game streaming over Twitch, sharing pet videos on TikTok, and meeting regularly online
CleverPet's proprietary training curriculum, now open
Designed under the guidance of Mike Nuttall, co-founder of the renowned design firm IDEO, the CleverPet Hub represented a radical re-thinking of what a product for dogs and cats could be. It joined together attractive design and usability for both people and companion animals with extreme durability and intrusion resistance against motivated pups, to the acclaim of customers, product designers, companion animal experts, and technologists alike. Beyond the hardware, however, CleverPet was the first to invent an entirely automated process for training dogs and cats to use an electronic device. Dogs and cats (or "players" as they're called in the pet hacking community) often start off wary, unwilling to engage with what is, to them, a piece of plastic that's large, noisy, and moves surprisingly. CleverPet developed and carefully tested a software training curriculum based in the latest techniques from animal behavior science. These algorithms successfully trained thousands of players to the point where the dog or cat could "see the light" and understand that the Hub's lights were something for the player to pay attention to.
With this release of hackerpet, CleverPet's once proprietary algorithms are now open for the public to use, modify, and share. The sequence of challenges is available on the hackerpet Git repository on Github, and can be quickly and easily installed from the hackerpet library within Particle's build environment. In addition, pet hackers can easily install games developed by themselves or the pet hacking community.
Full access to the Hub hardware API
CleverPet has also made publicly available full access to the CleverPet Hub API. This means users have complete, millisecond-precision accuracy of the timing of player interactions, with total web-based control of the Hub. Customers can see and configure when and how much food reward is dispensed, the brightness, dimness, and color of the Hub's lights, and communication with peripherals such as connected toys or even, via a home automation system, a room's connected lamps. hackerpet makes possible flexible integration of the CleverPet Hub with Amazon's Echo devices or Google's Home Hub, DIY home automation systems such as Home Assistant, as well as communication with networked TV displays.
Real-time data capture and analysis with Reports
In conjunction with the launch of hackerpet, CleverPet is also launching Reports. Reports is a new, free service that enables a connected hackerpet Hub to instantly send a report from a game to a Google Sheet owned by the user. Customers can quickly see whether the game their player is playing is too easy or too challenging, how much kibble or treats a player has consumed, and what level of difficulty the player has reached. By setting the sheet as a data source for software such as Google Data Studio, customers can show off their player's prowess easily through powerful data visualization tools.
A community of "pet hackers"
Curious minds from around the world, and from ages from 10 and up, have been creating games, adding hardware, and engaging their dogs and cats with hackerpet. This new pet hacking community shares videos, code, tips on troubleshooting hardware and training, and ideas for new kinds of game to teach to their players. Noted Trottier, "Without a community actively engaging with and inquiring into how their player thinks, we don't stand a chance of discovering during our lifetimes what companion animals can really do."
The community is actively engaged with with online platforms such as TikTok, where the #hackerpet hashtag has earned over 1.4 million views since pet hackers began using it last month.
Opportunities for educators
hackerpet combines animal behavior science, coding, data analysis, and pets for what proves to be a potent educational combination. Making and trying out games for your dog or cat turns out to bring immediate direct rewards in the form of both human and animal enrichment. Conventional home robots, while valuable learning tools, have not yet matched the delight that dogs and cats inspire. CleverPet's training curriculum, easily built games, data analysis pipeline, and hardware make pet hacking accessible to anyone who can use a keyboard, and CleverPet has been engaging with educators to field test hackerpet deployment in high schools across the United States.
Opportunities for scientists and companion animal professionals
hackerpet's open approach enables veterinarians, trainers, behaviorists, and other professionals in the industry to use the hackerpet platform to develop their own custom applications. "Before hackerpet, any time a trainer, veterinarian, shelter, or zoo approached us about using CleverPet in their practice we had to turn down their requests for a customized device. As a startup, we simply didn't have the resources to develop bespoke solutions. Now, thanks to hackerpet's open, easy-to-use tools, we can collaborate directly with these groups."
Pricing and availability
hackerpet is immediately available to most CleverPet users. While CleverPet Hubs are currently unavailable in anticipation of the release of the CleverPet V2, a small number of refurbished hackerpet-compatible CleverPet Hubs are available for sale to a limited audience. Those interested in acquiring a Hub and joining the growing community of pet hackers should sign up at hackerpet.com.
Additional images and videos can be found at http://clvr.pt/jul2019press