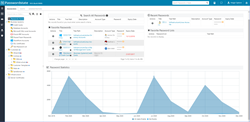 "We're proud to announce the release of Passwordstate 9.0. V9 represents the new standard for Enterprise Password Management. It's the culmination of 2 years of development with the new features, back end optimization and the flexibility most requested by our global customer base."
ADELAIDE, South Australia (PRWEB) March 01, 2021
Passwordstate, recently announced as one of the top Business Password Managers by Expert Insights, has just hit another major milestone. The creators of the software Click Studios have just released Passwordstate Version 9.0 (V9). Over 70 new features, improvements and new native apps for iOS and Android devices have been incorporated into Passwordstate V9. Passwordstate is the alternative secure and feature rich web-based solution for businesses of all sizes. It has fast become the go to solution for businesses looking to centralize, manage, monitor, and control access to the passwords and documents that are critical to their business operation.
Passwordstate V9 is a world class software solution for Enterprise Password Management. The key differentiators when compared to their main competitors are affordability, breadth of features, true scalability and the responsiveness of technical support. The product offers encrypted repositories that are tamper proof, multiple two-factor authentication solutions, options for offline access to passwords with full auditing and an industry leading Application Programming Interface (API) for easy integration with systems and applications.
Some of the new features and enhancements in Passwordstate V9 are:

The User Interface (UI) now provides toggling menus and new icons, optimized for performance, and consistency with the new native iOS and Android Apps
Multithreading offers significant improvements in speed and performance for Account and Dependency Discovery jobs
Randomizer and incrementor functions for Password Reset Schedules, enable selection of a time range for, and to incrementally stagger, password resets
Settings Search, allowing easy location of individual settings related to Features, System Settings and the Password Self Service Portal
New Security Assertion Markup Language verification policy for the Password Self Service Portal
Replacement of existing Mobile Client functionality with native iOS and Android Apps, offering Biometric Support, and a user based encrypted offline cache of credentials
Autofilling of website credentials on your smartphone using the native Apps
Identifying and alerting to website URLs previously saved as ignored in the Browser Extensions plugin
Automatically update password records when you change them on a website
A new Advanced Permissions model in addition to the existing Standard Model
Improved Backup capability with options to split server and database files and encrypt backups using the nominated password record
Multiple improvements and additional methods for both API's
One-Time Password visibility within Password Lists, and availability in Browser Extensions
Improved High Availability options for the Self Destruct Message feature, and for Browser Based Remote Session Gateway
Founded in the year 2000, Click Studios has built their well-earned reputation on the continuous development of features, remaining affordable for all businesses and excellence in the provision of technical support. The organization based in Adelaide South Australia is passionate about offering an alternative solution that is feature rich, secure, affordable and allows their customers to effectively manage and protect their privileged accounts – because it's important! Click Studios Passwordstate is trusted by more than 29,000 businesses and 370,000 Security and IT Professionals around the world.
Announcing the launch of Passwordstate V9, the founder and CEO of Click Studios Mark Sandford said, "We're extremely proud to announce the release of Passwordstate version 9.0. V9 represents the new standard for Enterprise Password Management. It's the culmination of 2 years of development by our inhouse team located in Australia. With new features, back end optimization and the flexibility features most requested by our global customer base. It makes the management, access and reporting of privileged account use easier than ever. It is quite simply the most secure, flexible and affordable solution for privileged account management."
About Passwordstate:
Passwordstate is a secure web-based solution for the management of sensitive passwords credentials, enabling greater team collaboration, awareness, productivity gains while preventing credential theft. Role based administration and end-to-end event auditing provides a secure platform for password storage, real-time alerting, and assists with meeting audits and regulatory compliance requirements such as SOX and PCI. For more information on Passwordstate, please visit http://www.clickstudios.com.au.