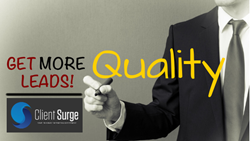 Today's approach to SEO is more complex, multi-dimensional, and technical than ever before!
TYSONS CORNER, Va. (PRWEB) September 25, 2018
It's safe to say that SEO has transitioned from a nice to have line item in your marketing budget to a mandatory budgeted expense for every business that relies on the digital platforms for all or a portion of their branding, sales, marketing, and advertising – regardless of industry, geo-location, product/service offering or size.
"Back in the early days – 2008 timeframe and earlier, all you needed was a website/domain, web developer that could build a website together and key basic SEO and you would have a considerable competitive edge of the competition. This is certainly not the case anymore. For Client Surge's US and International business clients SEO is a foundational building block for what is needed to deliver search engine results and more importantly converting leads into customers. The approach to SEO is a more complex / multi-dimensional, and technical engagement than ever before," according CEO of Client Surge.
So how has the SEO landscape changed? The analysis done by Virginia SEO Agency, Client Surge, shows that a combination of more technical SEO strategies coupled with building authority, trust and real traffic are the key elements needed to outrank your competition. An emphasis is placed on understanding the digital environment, building a robust strategy and sustained execution over 12 to 18 months and beyond depending on the competition.
The start of which is a comprehensive website audit, competitor analysis, and digital branding and presence review. From these data points Client Surge SEO will be able to define a tactical plan to outrank and dominate any market or industry.
The challenges faced by clients is the increased awareness and spend by competitors to leverage search marketing tactics and the depth and breath of strategies needed to reach the top of SERPs and maintain it. This has directly impacts both direct costs and timeline to achieve. The companies willing to invest in traffic and lead generation above and beyond their competitors will be the winners in the long run – both from a brand affinity and market/revenue domination perspective.
According to a recent survey, 90% of these businesses have accepted SEO as a needed cost of doing business. The rise in customer demand coupled with the increased need for continuous research and specializations by SEO professionals explain how and why SEO is positioned to capture the largest portion of the Marketing and IT service market sector by the early 2020's.
Those business owners in the Washington DC and metropolitan areas who are interested in learning more about the impact, necessity, costs, and benefits of SEO and Content Marketing strategies can register for this free seminar by visiting our Washington DC SEO meetup.
About Client Surge SEO
Client Surge Established in 2016 by Salman Abideen who is a seasoned and experience technologist that delivers SEO, web design, and web development services. Client Surge understands and delivers the most current digital marketing strategies to businesses looking to secure their growth – from government agencies to small business owner-operators – to enhance their online presence, increase website traffic, and grow their businesses annually.
Client Surge SEO
1765 Greensboro Station Pl, Suite 900
Tysons Corner, VA 22102
(571) 550 - 9260