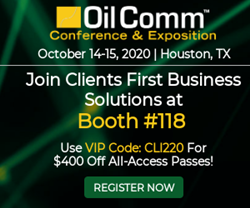 Visit Clients First in booth #118 at OilComm to learn how to automate oilfield equipment and services (OFS) project planning, design and resource scheduling strategies. - Michael Conti, Clients First
ARLINGTON, Texas (PRWEB) August 18, 2020
Leading integrated cloud ERP software provider, Clients First Business Solutions, announces 2020 exhibitor sponsorship at OilComm – Houston Marriott Westchase, Houston, TX.
Clients First Business Solutions exhibits in booth #118 at OilComm. The OilComm Conference & Exposition was designed for digital technology professionals within the oil & gas community looking to explore innovative technology. Attendees learn how to capitalize on the digital revolution that's reshaping the industry and network with lifelong partners who will help them transform into Industry 4.0 businesses. In response to current conditions, OilComm continues to innovate and evolve. For example, there are several options to connect to industry experts. There's the in-person OilComm Conference and Exposition in October, the newly launched Connected Energy Webcast series, and the upcoming OilComm Digital Week (August 17-20, 2020). OilComm is now delivering more cutting-edge insights and fresh new ways for the oil and gas community of 60,000+ to come together, and oil and gas industry buyers and sellers to connect in digital environments.
Stop by booth 118 to learn how integrated cloud ERP software helps operators, EPCs, rig owners, drilling and maritime professionals automate and become more profitable. Clients First delivers cloud ERP software automation (ERP – enterprise resource planning) specific to oil and gas companies to help increase efficiency and profitability.
19 Benefits of Cloud ERP Software Automation for the OilComm Community:
1. Deliver quotes faster
2. Accurately estimate project details
3.Track labor and material costs efficiently
4. Determine revenue and cost estimates by oilfield project category
5. Configure workflows for oilfield budget approval
6.Track revenue by milestone dates
7. Confirm billing rules and what to bill at each milestone
8. Report on budget vs actual
9. Notify purchasing of outsourced services shortages
10. Identify outsourced services
11. Reduce lead time bottlenecks to meet deadlines
12. Plan for materials and supplies needed for oilfield projects
13. Dispatch the right oilfield worker based on skillset
14. Empower technicians with a 360-degree view of customers
15. Provide technicians with real-time guidance to speed up resolution time
16. Track oilfield project and service expenses in one easy-to-use system
17. Rental equipment
18. Service equipment
19. Upstream and downstream capabilities
Visit Clients First Business Solutions in booth #118 to learn more…
Automation and the use of quality data are paramount to achieve a more efficient transparent oilfield service procurement and sales process. Prosperous companies in the oil and gas industry, for example, have moved past paper faxes and outdated Excel files to real-time modern integrated systems that capture good data. Profitable oil and gas service companies invest in real-time integrations required to help their customers and suppliers. Robust quality data sets allow oil and gas companies to capitalize using business intelligence tools to identify inefficiencies and market trends to help serve customers better with higher quality margins.
OFS companies don't need to wait for OilComm to learn how to optimize field service operations. Register for our lunch and learn on Wednesday, August 26, 2020 to get a preview and free lunch courtesy of GrubHub and Acumatica cloud ERP.
About Clients First Business Solutions
Since 2003, Clients First Business Solutions has been offering local businesses ERP software implementation, support, and training services. Clients First helps businesses of all sizes implement business software for their organization. We have seven offices covering the entire United States.
Our goal is to help you improve your business processes, reduce overhead and realize a competitive advantage in your industry. Your business benefits from our team's expertise by increasing ROI and improving your bottom line.
We offer an affordable Quick Turn Implementation plan including any legacy data, so you are operating more efficiently on the first day of use. We also offer full implementation services for more complex needs along with a US-based development team to tackle unique business challenges and scenarios. Our team supports Dynamics 365 solutions and Acumatica cloud ERP. Our team is well versed in Finance, Supply Chain, Manufacturing, Project Accounting, and EDI. We specialize in oil and gas ERP software implementations. We also have a US-based development team to promptly address your needs.
Please contact us to learn more – call 800-331-8382