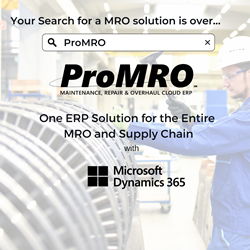 With Dynamics MRO's serial number tracking software, each aircraft's serial number is tracked through the system... I have and will continue to recommend Dynamics ProMRO... We found it very easy to use and customize to our needs. We're extremely happy! - Brian Adamik, CEO RAM Aircraft Corporation
ARLINGTON, Texas (PRWEB) January 18, 2023
MRO Software Solution for Dynamics 365 Finance and Supply is Now Available
Clients First Business Solutions is excited to announce that ProMRO, MRO software, is now fully integrated with Dynamics 365 Finance and Supply Chain Management (D365F/O)! ProMRO is an ideal solution for growing mid-market and enterprise MRO (maintenance, repair and overhaul) companies with heavy equipment, aviation and other similar repair shops. ProMRO leverages Dynamics 365 functionality paired with software designed specifically for growing MRO companies. This combination allows companies to utilize the robust supply chain inventory management functionality, project tracking and traceability, global financials and manufacturing all included in the Dynamics 365 Finance and Supply Chain solution. 
Streamline your operations across multiple departments with robust features and capabilities for sales, shop floor, inventory controls and finance to help improve efficiency, productivity, standardization, cost savings and predictability with ProMRO and Dynamics 365.
ProMRO Benefits for Dynamics 365 Finance and Supply Chain Customers
The real value of ProMRO is linking routine processes from start to finish in Sales, Operations, Production and Finance.
Sales - ProMRO allows you to efficiently move from the quote through sales to post-sales support. All activities are visible to your sales, customer service and shop floor teams. Your contacts, communications, and activities are conveniently accessible within the system. Your team can have a clear view of all activities with a customer and/or prospect through the lifecycle of the sale including shop quotes and approvals.
For post-sale questions, your customer service team will find the 360-degree view of the customer (including their job and equipment history) especially helpful. Sales Operations benefits include: 

Full Account, Contact and Quote Management 
Quote workflow streamlines estimate requests from any department that provides input or approvals
Improve accuracy and quote speed
Track, inquire, and view customers' equipment history as well as record user-defined engineering values
Satisfy every customer quote format with easy editing for simple and complex jobs
Templates to include the services you offer
Approval-controlled templates can be comprised of unlimited labor and parts
Quick functionality to process parts-only sales
Easy transformation of estimates to sales for small jobs
Complete pick/pack/ship workflow to fulfill orders and track back orders
Integrated Document Management
KPI, Reporting and Dashboards
Operations - Once a quote is transformed into a project in ProMRO, you get unparalleled transparency to both the shop floor and the customer. ProMRO includes defined Service Profiles so your time estimates, labor types, material estimates and miscellaneous expenses are already planned out. The shop floor will know what was sold and what services need to be accomplished by having clearly defined tasks (task cards for aviation) to be followed within a project to monitor the budget in real-time. You will be able to easily identify whether a task was started, how long was spent on it, who charged the time, and when.
Service Profiles functionality includes the following benefits:

Templates to standardize how you quote work
Services can be priced at standard or customer-specific rates
Accurate costs of Services allow you to profitably price your work
Prospect-friendly quote language can be added to each service
Activities can include labor, materials, and miscellaneous expenses
All required tasks, time estimates, and actuals are clearly visible
Dashboards help monitor your profitability by service type, equipment type, make and model
Dashboards help identify problems quickly to help prevent any costly end-of-job surprises
Track services and profits in real-time
Powerful Inventory Control
ProMRO gives full control to meet a variety of circumstances for you and the customer with the following benefits:
Inventory tracking with full traceability for serialized and batch-control inventory 
Inventory tracking for multiple warehouses, types of warehouses and even customer or subcontractor locations
Avoid inventory obsolescence by defining the date controlled (log expiration dates)
Reporting to show inventory aging reports and other reports to show locations, quantities, values and more
ProMRO supports non-stock items and kits
Implement the full Dynamics 365 Finance and Supply Chain warehouse management module for complex warehouse scenarios
Production Management - If your business includes discrete, process, lean and mix-mode manufacturing, ProMRO is fully integrated with the Dynamics 365 Finance and Supply Chain Production control module with cost accumulated under the main project/work order. Having production management within your ERP also allows for the support of multiple lines of business which is important for the enterprise customer. Multiple companies, currencies, and lines of business are all available with Dynamics 365 and ProMRO. 
Bills of Materials and Routers
Purchase and production orders linked to the job for tracking, costing and profitability calculations
Replenishments are automatically calculated through Material Requirements Planning (MRP) to schedule purchase and production orders
Accurate forecasts
Finance
Since ProMRO gives you the ability to control how the invoice was created, you can keep track of the funds needed behind the scenes for invoicing services. ProMRO helps you streamline your accounting with: 
Invoice language can be taken from quote language for consistency
Details or rules-based invoicing
Customizable and customer-specific invoice formats for professional invoicing 
Additional charges clearly displayed, as appropriate
Full finance package complete with IFRS and any complex financial requirements
Rely on the Microsoft Experts at Clients First
Clients First consultants have direct experience in the industries we support. The Clients First Texas office is known for its vertical expertise in manufacturing, job shops, maintenance, repair, and overhaul (MRO) for aviation or heavy equipment organizations. We have customers in other industries, too, including make-to-order/engineering job shops, project manufacturing, field services, and wholesale distribution.
Nothing replaces a live presentation so please contact us to schedule a demonstration for your business. We support ProMRO with leading Cloud ERP solutions Acumatica and Microsoft Dynamics 365 Finance and Supply. We also support Dynamics 365 Business Central and have a deep knowledge of legacy ERP solutions like Dynamics AX (formerly Axapta) and Dynamics NAV (formerly Navision). 
We're a Microsoft Gold ERP Partner, a Certified Cloud Service Provider (CSP), and an Acumatica Gold Partner.
Email our office in Dallas/Fort Worth, Texas - info@cfbs-us.com or call 800.331.8382. We're based in Dallas, Texas while servicing companies worldwide.