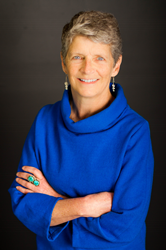 What climate advocates have learned in 50 years can help address the economic, health and equity crises; what people are experiencing for themselves as we tackle these crises is how to work together to fight climate change.
TACOMA, Wash. (PRWEB) November 15, 2020
Sarah Sutton, a leading climate advocate from the cultural sector, joins Colleen Dilenschneider (IMPACTS) and Jamal Jimerson (Minority Inclusion Project) as a keynoter for the New England Museum Association's Annual Conference November 18th.
She'll discuss how the Biden-Harris administration's climate work intersects with museums, and examines the lessons from decades of climate advocacy have striking parallels with the experiences of the health, economic and racial crises. The two most important parallels are that that facts don't change minds, and that action drives hope.
For both those reasons, museums are critical to this work. Since science, data, language, politics, history and human nature are all mixed up in the problems and the solutions, museums are in the spaces where communities must cope with and overcome these crises. With their missions to help people and communities thrive, they must learn enough, fast enough to make a difference during these struggles.
America's Pledge documents how subnational actors have made climate commitments that take us to 37% emissions reductions by 2030. When the new administration engages, we can reach 49%. The rest must come from more sources, including the cultural sector.
The people of the United States needs the science, language, history, and art they find through museums to fight these crises effectively. We can build back better if we all capitalize on the gathering and exhibit spaces, gardens, landscapes and collections at museums, and if we engage our researchers and our educators as part of the effort to help people connect to what is happening around them and what's coming in the future, to cope, adapt, and overcome, to be successful, and heard, and joyful, and included.
Museums will be included in the future of our country when they work for everyone, not just for themselves.