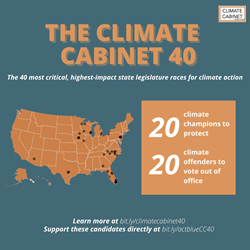 "The number one question prospective donors ask us is where their donation will have the most impact. We created The Climate Cabinet 40 to help anyone identify the races where their contributions can make the biggest difference."
SAN FRANCISCO (PRWEB) September 17, 2020
Climate Cabinet Action Fund, a group that helps candidates run, win, and legislate on the climate crisis, announces their first annual Climate Cabinet 40. These 40 state legislative races in 10 key battleground states (Arizona, Colorado, Florida, Georgia, Iowa, Michigan, North Carolina, Pennsylvania, Texas, and Wisconsin) feature the country's most ardent supporters and opponents of policy tackling climate change.
The announcement is accompanied by the launch of the Climate Cabinet Score Database. This database contains a 100-point score that reflects the voting record on climate and environmental bills for every sitting state legislator in the 10 battleground states.
"The number one question prospective donors ask us is where their donation will have the most impact," states Caroline Spears, Cabinet Cabinet Action Fund's Executive Director. "We created The Climate Cabinet 40 to help anyone identify the races where their contributions can make the biggest difference."
To see the Climate Cabinet 40 list, access the full database, and learn more, visit: http://www.climatecabinetaction.org.
Local Races, Big Impact
While discussions about climate change usually focus on policy decisions made at the national level, much of the decision-making power lies within the state legislatures. It is these governing bodies that make the call on the most critical climate-related decisions, including carbon pollution, illegal air emissions, increasing renewable energy, clean cars, and environmental justice.
These state races afford every citizen a chance to substantively support pro-climate candidates given their smaller scale. For instance, a highly competitive state house race might only cost $75K, compared with larger federal races that often require millions of dollars in contributions. This means that a few hundred $20 donations go further in supporting pro-climate legislators on the state level than it does in federal and national elections.
The Climate Cabinet 40
To determine which races could have the most significant impact, Climate Cabinet Action Fund compiled a list of over 1,500 state legislators in 10 key battleground states. We analyzed data from climate change-related votes in the last legislative sessions to assign every incumbent a Climate Cabinet Score, and overlaid these Scores with each incumbent's political vulnerability.
Combining this data with the Climate Cabinet Score enabled Climate Cabinet Action Fund to identify the 40 highest stakes state legislative races for climate. Half of these are climate champions who received a perfect Climate Cabinet Score. These 20 officials need support from the climate change community as they're facing tough re-election campaigns. The other half of the list are the biggest climate change obstructionists whom we've identified as the worst on climate in the nation.
Climate Cabinet Score Database
Climate Cabinet is making its database on state legislature voting records available to the public. The trove of information will allow journalists, PACs, and others to conduct detailed analysis on the voting records of individual legislators, as well as states.
About Climate Cabinet Action Fund
The Climate Cabinet Action Fund exists to help candidates run, win, and legislate on the climate crisis. America faces record-breaking hurricanes and fires - but also the opportunity to create millions of jobs in clean energy that solve this existential threat. We have no time to waste - every elected official should have a plan to solve climate change the day they step into office. We help them create one.