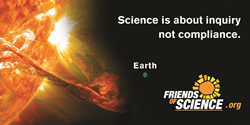 climate hysteria hype is damaging to society, especially when these stories are only based on computer simulations or 'models.' Physicist Freeman Dyson says using models to predict future climate is science fiction
CALGARY, Canada (PRWEB) August 14, 2018
Breathless headlines, like that of The Telegraph of Aug. 6, 2018, that proclaimed possible future 'hothouse' earth and 200 foot sea level rise, are examples of climate hysteria in the media that damages public trust in science and spawns unnecessary public fear, says Friends of Science Society.
Science should edify, not terrify people, says Friends of Science, noting that the "hothouse earth' paper focusses solely on carbon dioxide reduction and a 2 degree-Celsius climate target that was arbitrarily made up by an economist, not a scientist, as reported in "The Two Degree Delusion," Foreign Affairs Feb. 8, 2018. The "hothouse" theory is based on projections that leave out a myriad of powerful, modulating natural factors and cycles, such as those of the sun and oceans, says Friends of Science.
Various commentators like Dr. Judith Curry have denounced the 'hothouse earth' paper's purpose to 'spur' climate action when "A paper about climate outcomes on a millennial time scale would seem to be completely irrelevant to any conceivable policy" noting that "If the paper wasn't so heavy on the policy prescriptions, it would be a much more credible contribution." Curry offers links to several of her papers on reasoning about uncertainty and climate change in her blog post of Aug. 8, 2018.
Dr. Curry reminds everyone that "geologic and solar wild cards will almost certainly come into play to produce climate surprises."
One of the 'solutions' of the 'hothouse' authors is that of global governance, a sentiment clearly expressed by co-author Schellnhuber in this June 19, 2015, statement at the launch of the Papal "Laudato Si."
Indeed, a spate of dystopian commentaries have filled the media, like Michael Segal's July 20, 2018, Medium article interviewing Ben Strauss about seaboard flooding and 'maps you can't unsee' – inaccurately comparing Super Storm Sandy to sea level rise. Sandy was a weather event, sea level rise of any consequence takes hundreds of years, says Friends of Science Communications Manager, Michelle Stirling, in a personal article "Stop the Climate Change Dystopia."
On July 16, 2018, the New York Times published an op-ed by Roy Scranton entitled "Raising my child in a doomed world" - a dark piece, also rebutted here by Stirling.
The New York Times' Aug. 1, 2018, magazine edition echoed 'the end is nigh' medieval prognostication says Friends of Science with "Countering the Climate Tome."
Friends of Science Society says these nightmarish claims pose a threat to society because young people lose hope or are stoked to feel unwarranted rage against the previous generation as in the 2007 "Angry Kid" video of Greenpeace. Unstable people may hurt themselves in despair. This climate hysteria hype is damaging to society, especially when these stories are only based on computer simulations or 'models.' Physicist Freeman Dyson says using models to predict future climate is science fiction.
Friends of Science Society says solar activity is in a low phase and many solar scientists are predicting a long-term cooling phase ahead, perhaps for decades. Consequently, far from being 'stranded assets,' fossil fuels will be more in demand than ever.
According to numerous peer-reviewed papers summarized on the No Tricks Zone blog of Aug. 2, 2018, 89 new papers invalidate claims that the current warm is unusual; previous temperature norms for warm periods are on a par with today.
About
Friends of Science Society is an independent group of earth, atmospheric and solar scientists, engineers, and citizens who are celebrating its 16th year of offering climate science insights. After a thorough review of a broad spectrum of literature on climate change, Friends of Science Society has concluded that the sun is the main driver of climate change, not carbon dioxide (CO2).
Friends of Science Society
P.O. Box 23167, Mission P.O.
Calgary, Alberta
Canada T2S 3B1
Toll-free Telephone: 1-888-789-9597
Web: friendsofscience.org
E-mail: contact(at)friendsofscience(dot)org
Web: climatechange101.ca