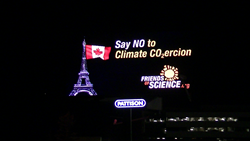 Taxing the most productive Canadian sectors and raising energy costs for Canadian consumers and firms to subsidize politically-favoured industries can never be considered as benefitting the economy.
CALGARY, Alberta (PRWEB) September 20, 2018
In an article published online in "The Future Economy," the Hon. Catherine McKenna, Canada's Minister of Environment and Climate Change, claimed the 'clean growth century' is here, that carbon taxes are beneficial to the economy, but these are refuted by a new report "The 'Clean' Growth Hallucination" by Robert Lyman, says Friends of Science.
Lyman also offers the public a plain language review of an important new paper by Ross McKitrick and John Christy, which assesses the validity of the warming rate in the climate models (simulations) used by the Intergovernmental Panel on Climate Change (IPCC). "All 102 model projections run warmer than the observations. In most individual model cases, the discrepancy is significant, and on average the discrepancy is significant," writes Lyman.
The McKitrick/Christy work is relevant to government policy makers and citizens because governments rely on IPCC modelled projections as part of how they set carbon taxes, the idea being that if carbon taxes cause you to use less fossil fuels (to save money), then global warming will be reduced. This idea has been widely rejected by people like Bjorn Lomborg, whose research shows that even if all countries met all greenhouse gas reduction targets in the Paris Agreement, by the end of the century, the reduction in warming would be miniscule – on the order of seventeen-hundredths of a degree Celsius (0.3 degrees Fahrenheit).
Lomborg discusses his views in this interview where he praises US President Trump for pulling out of the Paris Agreement to address real world priorities rather than spending trillions on climate change: youtu.be/tbGZo8D5gnI
In Minister McKenna's commentary she also says Canada is experiencing more severe weather extremes like floods, droughts, heat waves – a claim that is disputed by former Environment Canada researcher, IPCC expert reviewer and WMO regional expert Dr. Madhav Khandekar. Khandekar says extreme events are an integral part of weather; he's more concerned about recent cold snaps and the impact on the economy, plus our lack of preparedness for a possible solar minimum, as outlined in this April 27, 2018 Troy Media article. Some of Dr. Khandekar's materials and a joint paper with Ray Garnett are posted along with Robert Lyman's report.
Friends of Science Society has been reviewing climate science and related energy policies since 2002. After a comprehensive review, their conclusion is that the sun is the main driver of climate change, not carbon dioxide.
About
Friends of Science Society is an independent group of earth, atmospheric and solar scientists, engineers, and citizens who are celebrating its 16th year of offering climate science insights. After a thorough review of a broad spectrum of literature on climate change, Friends of Science Society has concluded that the sun is the main driver of climate change, not carbon dioxide (CO2).
Friends of Science Society
P.O. Box 23167, Mission P.O.
Calgary, Alberta
Canada T2S 3B1
Toll-free Telephone: 1-888-789-9597
Web: friendsofscience.org
E-mail: contact(at)friendsofscience(dot)org
Web: climatechange101.ca