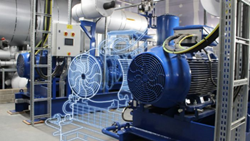 ''Drawing on over 50 years of industry experience, SDA plays a key role in Star's ongoing commitment to build and maintain cooling systems that save energy, reduce running costs and provide long-term efficiency.''
LONDON (PRWEB) September 08, 2020
Star Refrigeration is helping some of the UK's top businesses to save energy and cut carbon emissions, in line with the latest climate change targets announced by the government.
Group company Star Data Analytics (SDA) is working with market-leaders in industries including freezing and chilling, temperature controlled storage and distribution, food production, IT and leisure. SDA provides refrigeration and heating plant operators with a unique web-based remote monitoring system to increase efficiency and reduce energy consumption.
SDA's team of award-winning refrigeration consultants, field engineers and software experts have developed the Ethos system to monitor energy usage and help optimise plant performance. Ethos provides a strategic analysis of operational data, enabling customers to achieve substantial energy savings, with the potential to help them meet Climate Change Agreement (CCA) obligations.
Star Data Analytics Business Development Manager Anne Flanagan says: "In some sectors of the refrigeration industry, such as cold storage and distribution, the cooling system accounts for 70-80% of a temperature controlled facility's energy bill. Ethos allows us 24/7 remote access to monitor each plant's operational data and energy usage. By analysing this information regularly, we advise end users on the low cost technical adjustments required on site to help optimise plant performance, often leading to electricity cost savings of up to 30% per year."
The past two decades have seen a growing commitment across all sectors of UK business and industry to reduce electrical energy consumption to help tackle climate change. In March 2020 the government announced an extension to the CCA scheme, increasing decarbonisation ambitions.
Anne Flanagan adds: "As well as making significant cost savings, by increasing plant efficiency, operators are reducing energy consumption and cutting carbon emissions. This falls directly in line with the government's recent extension of the CCA scheme, with new energy efficiency targets being set for UK business and industry."
SDA's web-based Ethos system analyses plant data, identifying performance issues and recommending corrective actions to reduce energy usage and increase efficiency. The system provides real time visibility of plant status, temperature trends, pressure levels and component health, as well as safety alerts and fault alarms. Customers gain 24/7 remote access to all information through an online dashboard that can be viewed via smartphone, tablet or PC.
Ethos can be built in to a new plant or retro-fitted to any existing refrigeration or heat pump system. Through a standalone data logger and sensors, live operational data from the plant is compared with a computerised 'digital twin' showing optimum performance for the same conditions. Over 100 Ethos systems have been installed to date for customers in the UK.
Drawing on over 50 years of industry experience, SDA plays a key role in Star's ongoing commitment to build and maintain cooling systems that save energy, reduce running costs and provide long-term efficiency. Ethos has received numerous industry awards, including the TCS&D Partnership Award 2019 for a joint project with The Ice Co. Storage & Logistics, the RAC Cooling Awards' Refrigeration Innovation of the Year 2018 and Product of the Year at the 2018 National ACR and Heat Pump Awards.
For more information, see the Ethos brochure here