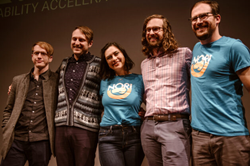 The market for products and services powered by captured carbon is huge, $1 trillion in the U.S. alone. Globally, that number rises to $6 trillion.
SEATTLE (PRWEB) January 22, 2020
Using its own marketplace and cryptocurrency token, Nori incentivizes farmers to practice regenerative farming, a set of principles and practices that increases biodiversity, enriches soils, improves watersheds, and enhances ecosystem services. Beyond carbon storage, regenerative farming increases the soil's water-holding capacity, stops soil erosion, protects the purity of groundwater and sets up the conditions for crops to become more disease and pest resilient. 
According to a 2014 Scientific American article, topsoil depletion could starve the world in 60 years. In a catch 22, farmers would need to change the way they do business, but that change comes at a steep price most cannot afford.
Now, with Nori's token incentives, farmers will no longer have to face the daunting prospect of lower incomes when implementing regenerative farming because Nori's marketplace will set the price of carbon removal at a fair price and remove the seven or eight layers of middlemen in the traditional carbon offset markets.
2020 is already shaping up to be big for Nori. The company is onboarding nine new farm projects and has another dozen waiting in line. These projects represent over 100,000 new tonnes of CO2 removed for sale. And with the close of the pre-seed round, the company is staffing up to handle the intense interest they are getting from both sides of the market.
In the second half of 2019 Nori launched its marketplace and completed the Techstars Sustainability program. As well as delivering on their milestones, the company closed (and oversubscribed) their $1.3M pre-seed round in December. And it's no wonder investors are flocking to Nori.
The tokenomics of the project are simple: According to the Nori White Paper, one token equals one tonne of carbon removed. Once a carbon removal claim is verified by an accredited independent third-party, Nori issues a Nori Carbon Removal Tonne (NRT).
With the current system muddied by politics and middleman, prices are all over the map. The New York Times reported that in the 9 Northeastern states, the cost is $5, yet in California, the price is $15. In the EU, the price is $25 and British Columbia enacted a tax on oil and gas that will raise the price to $38 by 2022. The market for products and services powered by captured carbon is huge, $1 trillion in the U.S. alone. Globally, that number rises to $6 trillion.
While the enterprise side of the business would appear to be the most profitable, Lucas Joppa of Microsoft is quoted in Marketplace that he has seen, "incredible customer demand all around the world for digital solutions to help them better understand, monitor and optimize for their own carbon footprints."
By implementing a simple token, Nori is able to scale to accommodate both major enterprise clients, as well as individual customers. From offsetting a factory or a taxi ride, a simple token is all it takes.
Companies like Black Rock Ventures have openly shared their mandate that all of their portfolio companies have a carbon policy. And the world's largest companies, like Microsoft, are committing $1 Billion toward reversing climate change. Elizabeth Willmott, Carbon Program Manager at Microsoft discussed what they look for in a project, "We need to invest in carbon removal solutions that are immediately available and environmentally verifiable, and those for us could include natural climate solutions such as soil carbon sequestration."
On the back of their recent traction and funding, Nori is fielding a lot of investor interest and will be raising a $5 million seed round in 2020 to expand its 10-person team.