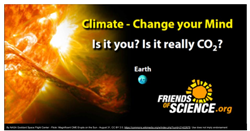 is it moral to leave our children freezing in the dark, terrified of life itself and saddled with debt, to make "low-carbon" investors rich.
CALGARY, Alberta (PRWEB) June 04, 2019
On May 28, 2019, the National Observer reported that "Investments tied to climate crisis will stay" regarding investments in a "low-carbon" future, but Friends of Science Society says the sun drives climate change, not carbon dioxide. The sun is moving into a cooling period as reported by Space Weather on April 10, 2019, meaning fossil fuel stocks will be more valuable than ever.
In fact, the world has cooled half a degree Celsius (0.5°C) in the past three years as the solar minimum kicks in, according to the December 2018, NASA GISS temperature record.
In an analysis of future energy markets by BP, summarized by Robert Lyman in a May 29, 2019 blog post all fossil fuel use is predicted to grow to at least 2040.
Lyman deconstructs "green energy" advocates' myths that conventional energy is diminishing in volume or demand versus the actual data which shows the opposite to be true.
Friends of Science Society says the financial community has embarked on a path far removed from climate science, focusing solely on the carbon dioxide molecule, rather than the larger climate picture. The National Observer article on climate investments of May 28, 2019, quotes Alberta Premier Jason Kenney calling concerns over "climate risk" the "flavor of the week."
Groups like the UNPRI and Climate Bond Initiatives and the CDP Worldwide have effectively created a 'climate cartel' of activist investors, focussed on making signatories agree to investing only in projects that support goals to lower carbon dioxide. This has skewed investment in projects like the Alberta oil sands, as reported in a previous press release by Friends of Science of March 22, 2018. This leaves valuable oil sands assets open to vulture investors, reducing the long-term net worth of these reserves to Canada.
Friends of Science Society says many financial and philanthropic community members associated with climate bonds have funded environmental groups. Those groups have ramped up fears of a warming world and alleged 'climate emergency' to create a societal 'climate psychosis.' Unnecessary fear grips children, evidenced in the sad story of Greta Thunberg, as told in Quillette of April 23, 2019.
In Canada, part of that psychosis is born out of the "Tar Sands Campaign" – a Green Trade War against Canada's primary resource industry, as discussed in an op-ed on Friends of Science blog of May 26, 2019. LINK: blog.friendsofscience.org/2019/05/26/down-the-rabbit-hole-with-andrew-nikiforuk/
At Friends of Science Society's Annual Event, Dr. Willie Soon demonstrated how the sun drives climate change in Canada and thus everywhere. LINK: youtu.be/KazGXAqgkds
As Emeritus Professor Francois Gervais presented at the 2018 Porto Climate Conference, the scientific consensus now is that carbon dioxide's effect on warming in nominal to nil, meaning a low-carbon dioxide transition will have no effect on global warming but will be burdensome in terms of debt to future generations. LINK: youtu.be/wU1PKa0W8Gc
"Such a policy goal would make humanity $14 trillion poorer compared to doing nothing at all about climate change," estimates Robert Murphy in his analysis of Nobel winning economist William Nordhaus' work regarding the UN's Paris targets of limiting carbon dioxide, published Nov. 5, 2018 article in The Library of Economics and Liberty.
Friends of Science asks if it is moral to leave our children freezing in the dark, terrified of life itself and saddled with debt, to make 'low-carbon' investors rich.
About
Friends of Science Society is an independent group of earth, atmospheric and solar scientists, engineers, and citizens who are celebrating its 16th year of offering climate science insights. After a thorough review of a broad spectrum of literature on climate change, Friends of Science Society has concluded that the sun is the main driver of climate change, not carbon dioxide (CO2).
Friends of Science Society
P.O. Box 23167, Mission P.O.
Calgary, Alberta
Canada T2S 3B1
Toll-free Telephone: 1-888-789-9597
Web: friendsofscience.org
E-mail: contact(at)friendsofscience(dot)org
Web: climatechange101.ca