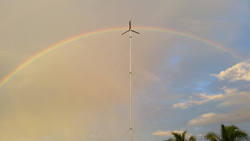 As sure as the sun will rise, solar = energy = water = food = green earth = healthy, secure community = harmonious, peaceful world.
PORT TOWNSEND, Wash. (PRWEB) February 11, 2020
Climate change is here and now. Scientists warn that it is happening much faster than originally predicted—sea rise, storms, drought. If you live in a vulnerable area, the task of combating such a force can appear monumental, even hopeless. Moana Marine is fully engaged on the frontlines of this battle, helping pacific island nations with the real world consequences of global warming. As rising seas and recurring drought contaminate fragile fresh water supplies, Moana Marine's solar and wind powered water purification systems are turning seawater into a steady stream of pure drinking water while providing energy to power homes, businesses and community centers. When an island community, once forced to abandon their ancestral home to America's nuclear bomb testing, went looking for solutions, they turned to Moana Marine.
The Marshall Island Bikini Islanders are no strangers to adversity. In 1946, yielding to the United States government's request to evacuate their pristine atoll "for the good of mankind and to end all world wars," they left, assured that they would soon be able to return. The US government then initiated their nuclear testing program, detonating 23 nuclear bombs on 7 sites around the atoll, including Castle Bravo, the largest nuclear bomb ever exploded. In an instant, their ancestral islands were rendered completely uninhabitable. Devastated and heartbroken, forever torn from their ancient roots, the people were reduced to the plight of refugee. Transported from place to place, they were finally resettled in two locations: remote, harsh, uninhabited Kili Island and Ejit islet in the Majuro lagoon.
Like other pacific islanders residing on low lying atolls in the Marshall Islands, Kiribati, Tuvalu and Micronesia, these proud and courageous people rarely make international news. The fact is that they are on the forefront of climate change, dealing with the daily realities of shifting winds and unrelenting sea rise. With elevations of only a few feet above sea level, any increase immediately impacts survival. Higher tides and pounding surf can quickly flood an entire island. Fresh water supplies become tainted. Power plants fail. People live in a constant state of uncertainty.
The current Bikini government and their local island council are taking the challenge, leading the way as climate change warriors, moving Bikini into the forefront of social activism, by adopting the most advanced solar, wind and water technologies. Their vision is to convert Kili and Ejit to 100% carbon free alternative energy and to supply both communities with solar and wind powered water production plants. The leaders have united with Tom Vance and his renewable energy company for their time tested innovations designed for remote, harsh environments.
The Kili Island community has been enjoying pure RO water produced by Moana Marine's signature water production plant since 2014. It is operated and maintained by local technicians trained by Moana Marine during installation. Their new plan calls for solar systems on every home, creating additional energy security on this remote outpost.
On Majuro Atoll, the capital of the Marshall Islands, construction is underway to install large, solar carports in front of the Bikini Town Hall. Each one will provide electric vehicle (EV) charging while supplying power to the Bikini Council building. The carports will also double as rainwater catchments, filling adjacent water tanks equipped with UV sterilization.
On Bikini's neighboring Ejit islet, the plan is to install a Moana desalination plant powered by wind and solar that will provide enough pure, clean drinking water to satisfy their daily needs and to assist neighboring communities in times of drought. The plan will also equip every home with solar power, joining with Moana Marine in their mission to create peace and security through water and energy independence, serving those whose voices are seldom heard.
Moana Marine first offered their Climate Change Solutions to Pacific Island nations in 2010. Since then, they have remained steady in their commitment to design robust, easily achievable applications for small communities facing the changes and challenges that are manifesting with climate change. Moana Marine's installations make use of evolving technologies to utilize the lowest LCOE (Levelized Cost of Energy) to run their desalination plants, EV charging stations and solar carports.
With the acceleration of climate change, the planet is reaching a tipping point. If each person can do a little something, we can bring about the needed balance. In the words of the Marshallese ancestors, "two drops make an ocean." Be a climate change contributor. Become the change that is needed.
Moana Marine takes their inspiration from the humble, yet tenacious, Mangrove Tree. One alone is weak, but when hundreds are planted along an eroding shoreline, they slowly gather sediment that not only creates new land but protects the surrounding reef and ecosystem. Together, united and focused around the globe, our collective efforts can bring about the same positive change.
Take the Climate Change Challenge. Make a difference. Together our efforts can turn the tide.