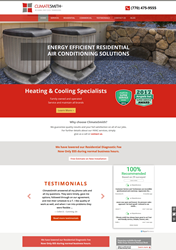 We are honored to once again be recognized as a 2020 Top Client Rated Alpharetta HVAC Company by Find Local Contractors. Complete customer satisfaction is our priority, and receiving this award shows that our efforts are noticed and appreciated, says a ClimateSmith LLC representative
ALPHARETTA, Ga. (PRWEB) August 27, 2020
As a result of the excellent ratings, testimonials and recommendations that ClimateSmith LLC has received, Find Local Contractors has named them a 2020 Top Client Rated Alpharetta HVAC Company. ClimateSmith LLC is a trusted and dependable HVAC company based in Alpharetta, Georgia, providing premier heating and cooling services,. With licensed and trained technicians, this respected business guarantees quality results and solutions to meet the specific needs of their valued clients.
Find Local Contractors is an established online directory that recognizes local contractors and companies who have received superior reviews based on service and performance. ClimateSmith LLC is among the select few HVAC companies to receive this award from Find Local Contractors. Many customer reviews have commented on the extensive knowledge and professionalism this company provides. It has been recognized by clients for fast response times and honest, reliable technicians with extensive knowledge of industry standards and products.
Services from ClimateSmith LLC include air conditioning and heating for homes and businesses, along with HVAC maintenance, service, repair, replacement and installation. Their experienced technicians also perform heat pump installation and repair, furnace repair and replacement, home/commercial insulation and the installation of a variety of accessories to monitor air quality. To measure energy consumption, costs and potential savings, ClimateSmith LLC also offers a full system efficiency analysis and HVAC inspection for residential and commercial clients.
"We are honored to once again be recognized as a 2020 Top Client Rated Alpharetta HVAC Company by Find Local Contractors. Complete customer satisfaction is our priority, and receiving this award shows that our efforts are noticed and appreciated," says a ClimateSmith LLC representative.
More About ClimateSmith LLC:
As one of Georgia's leading heating and air conditioning service companies, ClimateSmith LLC provides customized solutions for residential and commercial property owners, with unsurpassed service quality and customer care. ClimateSmith LLC provides turnkey services that are professional and reliable.
For more information about ClimateSmith LLC and the HVAC services it provides, please visit http://www.alpharetta-hvac.com or call (770) 475-9555.