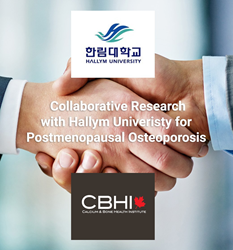 We hope SAC calcium becomes a breakthrough treatment for patients suffering from osteopenia or osteoporosis for which most calcium remedies in the market had proven largely ineffective
VANCOUVER, British Columbia (PRWEB) July 23, 2020
Calcium and Bone Health Institute (CBHI, http://www.cbhi.info), a nonprofit clinical research institute in Canada joined hands with Hallym University in South Korea for a collaborative clinical "evaluative study of SAC (Sigma Anti-Bonding Calcium Carbonate) treatment effects in women with postmenopausal osteopenia." Professor Lee Sang-soo, the director of the Skeletal Aging Research Institute in Hallym University School of Medicine and Professor Ryu Ok-hyun will lead this research.
"We hope SAC calcium becomes a breakthrough treatment for patients suffering from osteopenia or osteoporosis for which most calcium remedies in the market had proven largely ineffective," said Dr. Paul Lee, the president of CBHI. "This collaborative research will be a huge milestone, giving confidence and hope for people suffering from this devastating degenerative disease. The scientific framework of how SAC works is already laid out in the book titled 'SAC for Calcium signaling' (sold in Amazon.com) for those looking for a spoiler."
SAC calcium employs sigma antibonding in calcium carbonate molecules to give its unique physical properties. When ingested, it will have our body absorb calcium in ionic form without the help of peptides and vitamin D, causing a slight elevation of ionic calcium level in our blood, which triggers hormonal responses that restore calcium homeostasis and robust bone-building processes, all-natural and safe processes without side effects.
The preliminary animal clinical study (2011) on induced osteoporosis in ovariectomized rats delivered very promising results. Also, a decade long volunteer-driven bone density case studies conducted by CBHI has already shown that SAC calcium improves bone health significantly and also alleviates symptoms of various calcium-related diseases. Already approved as a dietary supplement by Health Canada, SAC calcium is being marketed through participating physicians as a part of a more comprehensive clinical study with consenting patients and has shown encouraging results.
CBHI said that this collaborative study with Hallym University would prove the effects of SAC calcium on bone metabolism and may pave a way for subsequent studies to scientifically specify the mechanisms and pathways of healing to prevent and to treat over 150 calcium-related degenerative diseases. The study will predominantly focus on combating degenerative bone diseases such as osteoporosis, which is becoming a huge health challenge with extended life expectancy, especially for postmenopausal women. CBHI also recently entered into clinical collaborative research on multiple myeloma with the University of Arkansas for Medical Sciences (UAMS) Winthrop P. Rockefeller Cancer Institute in early June 2020.
About CBHI
Calcium and Bone Health Institute (CBHI) is a nonprofit scientific research organization based in Canada. With the invention of novel SAC ionic calcium carbonate, its primary research focuses on the role of ionic calcium in treating over 150 calcium-related chronic degenerative diseases such as osteoporosis, arthritis, Alzheimer's, metabolic disorders, etc. By conducting laboratory and clinical research, CBHI endeavors to find effective prevention and treatment options. CBHI collaborates with many research centers such as SFU, UBC, UC Davis, NSERC Canada, and BC Government to combine the research with fundamental sciences such as mathematics, chemistry, physics, and biology. It held the first International Sigma Anti-Bonding Calcium Symposium (ISACS) 2019 in Vancouver, Canada, to discuss and share the knowledge of the various measures to develop healthy bone and to prevent calcium-related diseases. This year, CBHI plans to hold ISACS in Manila, Philippines, which is not confirmed yet due to COVID-19 pandemic.
About the Skeletal Aging Research Institute in Hallym University School of Medicine
The Skeletal Aging Research Institute was founded to contribute to medical improvement with the leadership role in the medical research field of the artificial joint, senior skeleton, and arthritis, operating molecular biological, biological, medical engineering, and medical research system for aging-related musculoskeletal diseases. In the fundamental research field, it conducts research on the reaction of biomaterial in vivo, the exploration of bone-building accelerator, and the development of arthritis medicine to overcome osteolysis after the artificial joint procedure. In the medical research field, it contributes to the treatment of skeletal diseases worldwide through the research of joint surgery technique improvement, the fundamental and medical training for developing countries, and the support of medical treatment system improvement.