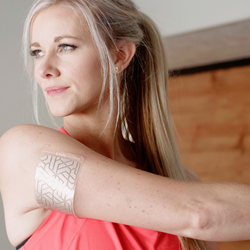 "...this kind of pain patch — because it's powered by the electrical signals of the body — works as long as your body is working."
SANDY, Utah (PRWEB) March 16, 2021
With roughly 1 in 5 adults experiencing chronic pain — and even more suffering from breakthrough and acute pain — the need for effective pain relief has never been more clear. Additionally, the rampant use of addictive opioids to manage pain means there's also a desperate need for safe alternatives. For this reason, Pain Relief Technologies, LLC is excited to announce the recent results of clinical trials for its Kailo Pain Patch®. The Kailo Pain Patch® is a non-drug, nanotechnology-formulated topical analgesic that is delivered via a 2.75 x 5.5-inch adhesive patch. Of the 66 pain-suffering participants in a clinical trial performed by Clarity Science LLC, nearly all reported they were very or extremely satisfied with the Kailo Pain Patch®.
After 30 days of use, the participants said their pain (measured by the Brief Pain Inventory (BPI) Severity score) decreased by an average of 71 percent. Nearly all participants also reported "less" or "a lot less" concurrent oral medication use for pain relief. For pain sufferers, this breakthrough technology means convenient, effective pain relief is available without the use of opioids or other dangerous drugs.
"The pain relief continues as long as you're wearing the Kailo Pain Patch," said Stuart Fetzer, CEO and founder of Pain Relief Technologies. "And you can wear Kailo Patch all the time – in the shower, bath, swimming, working out – daily life activities. So, unlike pills, which lose their effectiveness over time and cause a multitude of other problems and side effects including possible addiction, this kind of pain patch — because it's powered by the electrical signals of the body — works as long as your body is working."
The Kailo™ Kit — which includes a reusable Kailo Pain Patch®, a carrying case, and three free adhesives — retails for $119.00 and is available for purchase at gokailo.com.
To further spread awareness of the relief and effectiveness of the Kailo Pain Patch®, Pain Relief Technologies has participated in a "Pain Management" campaign by industry leader, Mediaplant, which was published online at futureofpersonalhealth.com/campaign/pain-management and featured in print within USA TODAY.
About Pain Relief Technologies LLC
Pain Relief Technologies LLC, based in Sandy, Utah, manufactures and distributes the Kailo Pain Patch®, part of its pain portfolio of products, to millions of pain sufferers around the world. The Kailo Pain Patch® is wearable, reusable, easy to use, and waterproof. It is designed to use nanocapacitors to interact with your body's natural electrical signals to relieve pain. For more information on the Kailo Pain Patch®, please visit http://www.gokailo.com.
Kailo Press Contact:
christine@gokailo.com