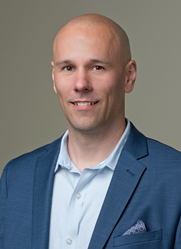 "Luke Embree is exactly the right person to help us grow as pharma continues to realize the scientific and business benefits of using consumer-level technologies to support clinical trial patients" - Rob Bohacs, ClinOne CEO & Co-founder
DENVER (PRWEB) May 26, 2021
ClinOne, a leader in virtual clinical trial management, continues to advance the global reach and impact of its platform with the appointment of Luke Embree as Chief Technology Officer.
Luke is a technology leader with 25 years of experience in identifying business goals with executive teams, developing innovative technology strategies, and delivering high-quality solutions. Luke's expertise includes cloud, databases, system performance, scalability, system integration, and data analytics - and he's been a key early employee of four successful startups.
Luke joins ClinOne from Signant Health, where he was VP of Engineering. There, he directed software development for several products and solutions including eCOA, IRT/RTSM, patient engagement, and clinical supply chain management.
Previously, Luke was VP of Technology at prescription medication discount provider FamilyWize, where he led all aspects of technology including the website, mobile apps, analytics, and infrastructure. Luke also was Director of Core Development at eCommerce retailer Pet360, where he oversaw infrastructure, DevOps, ERP, business intelligence, supply chain, and systems integration. For 12+ years, Luke was Director of Production Support & Data Services at Citi Prepaid Services, where he helped support growth from $2 million to $200 million.
"From an industry perspective, clinical research touches everyone's life in some form," Luke Embree (LinkedIn) said. "Research can provide benefits to millions of people, and ClinOne's elegant platform is making a huge difference in helping pharma discover new treatments and vaccines, including for COVID-19. From a personal perspective, everyone at ClinOne genuinely cares about helping people. I'm excited to work for a company that's so committed to making life easier for trial patients and their families."
At ClinOne, Luke will expand and scale technology to support the strong, planned growth of the platform as well as long-term corporate objectives. His charter includes creating a roadmap to add new features and products to meet and anticipate customer needs, with a focus on rapid, high-quality innovation.
"Attracting a visionary technology executive of Luke's caliber is an achievement," explained Rob Bohacs (LinkedIn), CEO and Co-founder of ClinOne. "Any company is only as good as the infrastructure that supports its customers and its own growth. Luke has a rare ability to find technologies and new strategies to do just that. He's exactly the right person to help us grow as pharma continues to realize the scientific and business benefits of using consumer-level technologies to support trial patients."
Luke earned his Bachelor's degree in Computer Science from Shippensburg University of Pennsylvania. He also took courses toward a Master's degree in Technology Management at Villanova University.
About ClinOne
The new era of clinical research has arrived. We help you lead the way with a single virtual platform to simplify patient enrollment, consent, data capture, compliance, and engagement. Featuring proven global logistics, the industry's fastest implementation timelines, and an all-star team of senior executives, technologists and service professionals, ClinOne makes clinical research a little easier, every day, for patients and sites worldwide. How can we help you? Bring your challenges and find your solutions at http://www.clinone.com.