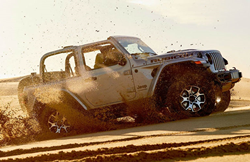 CLINTON, Ark. (PRWEB) July 29, 2020
For drivers who are looking for a new SUV, the team at Cowboy Chrysler Dodge Jeep Ram is ready to help. There are several vehicles inside the Cowboy Chrysler Dodge Jeep Ram showroom for drivers to see. For drivers who want a vehicle that has 4x4 wheel drive, there are some lined up and waiting.
Vehicles like the 2020 Jeep Wrangler have a 4x4 wheel drive and offer lots of features to help drivers enjoy their time on the road. The Jeep Wrangler offers a 3.6-liter V-6 engine that delivers 285 horsepower. Shoppers can also enjoy the other features inside this vehicle like its 8-speaker sound system and voice activated audio control technology.
The 2020 Jeep Grand Cherokee is another vehicle that drivers may be interested in. This vehicle has a 3.6-liter V-6 engine as well that achieves 293 horsepower and has an 8-speed automatic transmission. The 4x4 wheel drive is optional on this model as well as its 6.2-liter V-8 engine that produces 707 horsepower and a 7,700-pound towing capacity. These vehicles and more have these wheel drives to offer drivers.
Interested readers can learn more about the available 4x4 wheel SUV models and other vehicles at Cowboy Chrysler Dodge Jeep Ram by visiting the specific web pages on the dealer website at cowboycdjr.com. Shoppers can learn more about these vehicles by visiting the dealership showroom as well at 2799 Highway 65 South Clinton, AR 72031. Drivers can ask questions about these vehicles to the team of professionals at Cowboy Chrysler Dodge Jeep Ram to find the right vehicle for their needs.