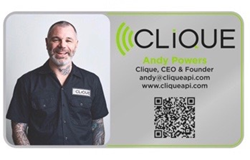 VENICE, Calif. (PRWEB) September 20, 2018
Clique, the company behind the global CPaaS (Communications Platform as a Service) revolution, announced the launch of the Bone Card QR application in Apple's iOS store from Clique Labs and its Future of Communications division.
As the innovation arm of the company, Future of Communications and Clique Labs' CEO Andy Powers announced the introduction of the Bone Card QR App as one of the first of many groundbreaking applications it is launching. At the heart of it, Clique knows that the future landscape of communications is a digital one, and the beginning to any modern digital communication is the exchange of contact details.
Bone Card QR is a digital business card that allows the exchange of contact information using a unique and personal QR code that acts as a digital thumbprint. Apple iOS cameras already have a native QR reader built in. Once a user has created their custom QR code within the app, they will simply need to scan it under an open camera, and the contact information will transfer immediately, appearing in the contact application on the receiving party's device.
By disrupting the current standard for contact information exchange, Clique intends to provide a simple solution with a solid reason for "why" people should engage. Bone Card QR is the platform Clique Labs is focusing on to revolutionize the way people exchange information with others, and how to optimize that exchange of information.
To download the app on your iPhone, click here. Those interested in learning more about Clique, Clique Labs, Bone Card QR, and CEO Andy Powers, should visit https://www.andypowers.com.
About Andy Powers
As founder and President of Clique, Clique Labs, and the Sabotage Institute, Andy Powers is not your typical CEO. Andy is a programmer, coach, entrepreneurial philanthropist, business builder, and family man who has dedicated his career to designing the future. To learn about his business ventures, check out his LinkedIn profile. To discover more about the man himself, visit Andy's website at https://www.andypowers.com.
About Clique
Clique's CPaaS APIs and products bring HD quality voice where consumers and business want it. Clique's easy to use SDKs and APIs make it easy for businesses to provide secure and efficient communications by integrating voice, messaging, and other technologies across multiple platforms and end points. Clique's platform makes it possible to use voice regardless of format, application environment, operating system, device, or location.
For more information, visit Clique online at http://www.cliqueapi.com.