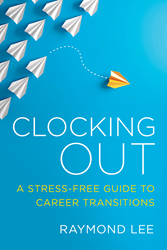 PHILADELPHIA (PRWEB) January 08, 2021
In 2020, over 4 million Americans permanently lost their jobs due to COVID-19, according to seasonally adjusted numbers from the Bureau of Labor Statistics.
This staggering statistic means that what many initially hoped were furloughs or temporary job losses are becoming permanent as businesses shut down and cut costs. Not only has COVID caused many Americans to scramble to figure out how to get reemployed in order to put food on the table and pay rent, but they are also taking an opportunity to reevaluate their career situation and long-term goals.
During all of this uncertainty, Careerminds CEO, Raymond Lee was in the midst of writing a book about adversity, job loss, and career transition, titled, Clocking Out: A Stress-free Guide to Career Transitions.
As many Americans face considerable amounts of personal and career adversity, Clocking Out aims to provide practical solutions through stories of regular working individuals who experienced their own adversity, career change, and transition.
Society of Human Resource Management (SHRM) editor, Matt Davis says, "The timing of Clocking Out for individuals impacted by job loss could not be better. The key principles of Choice, Agility, Mindset, and Trust outline how individuals can apply the stories to their own personal adversity."
Lee says he's grateful to have the opportunity to share his own personal journey as a backdrop to the book and plans to donate the proceeds to the Thurgood Marshall College Fund.
Many of the stories in the book are of individuals across the country who experienced sudden job loss and were supported by Careerminds, Lee's organization that works with individuals who have been impacted by a reduction in force.
Clocking Out is described by many critics as a powerful book about inspiration, courage, and fulfillment.
Careerminds is a global, virtual outplacement provider that utilizes cutting-edge technology in multiple languages in over 50 countries around the world. Their personalized, one-on-one career coaching, allows them to deliver customized services to anyone, anywhere at a lower cost than traditional firms. To add Careerminds to your RFP list, click here.