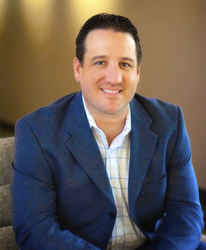 "Adam's tremendous franchise industry experience and his enthusiasm are an excellent complement to our corporate team and culture," said Lewis. "All of us here at Closet & Storage Concepts / More Space Place welcome Adam and look forward to working together to grow our company!"
WEST BERLIN, N.J. (PRWEB) September 28, 2020
Closet & Storage Concepts / More Space Place is pleased to announce the appointment of Adam Biedenbender as Director of Franchise Development. A seasoned franchising expert, Biedenbender brings two decades of experience in franchise sales and development at prominent multi-unit franchisors to the long-running home improvement and space-saving home furnishings company. Biedenbender assumes his new role today.
This announcement follows the news that Closet & Storage Concepts / More Space Place's longtime Director of Franchise Development, Thomas Harris, will retire at the end of 2020. "Tom has been a valuable member of our team. While we will miss him, we wish him all the best in his retirement," said Bob Lewis, President and CEO, Closet & Storage Concepts / More Space Place.
"Adam's tremendous franchise industry experience and his enthusiasm are an excellent complement to our corporate team and culture," said Lewis. "Adam is joining our team at a time when our business is extremely strong as consumers refocus their spending on home improvement and furnishings, in order to make their home a sanctuary and enjoyable place to live. All of us here at Closet & Storage Concepts / More Space Place welcome Adam and look forward to working together to grow our company!"
While many franchise and retail brands have struggled through the COVID-19 pandemic, the home improvement / home furnishings industry has grown. A recent Home Improvement Research Institute study found an 11 percent increase in home improvement product spending by consumers and the online home remodeling platform Houzz reported a 58 percent increase in interest in home improvement projects for 2020. With people spending more time at home, there is a growing interest in creating more comfortable, organized living spaces – a lasting trend as the country enters its new normal.
At the same time, franchise brands appear to be recovering more quickly than other businesses from the pandemic. Franchisees have benefited from the expertise, resources, and influence of franchisors – offering everything from guidance on forgivable loans, understanding changing governmental and regulatory orders to government lobbying efforts – during the pandemic. In addition, Closet & Storage Concepts / More Space Place leadership have noticed a growing interest in entrepreneurship among successful people who worry about the future of their jobs as many companies downsize their teams or in some cases close their doors entirely.
These factors paint an optimistic picture for franchise growth of Closet & Storage Concepts / More Space Place. With his impressive background in franchise development and operations, Biedenbender will lead the established home improvement company into its next phase of growth.
Over the course of his career, Biedenbender has sold hundreds of franchise units. Since 2017, he has served as Vice President of Development at Primo Hoagies Franchising Inc., a regional sandwich franchise. As a member of the leadership team, he managed all aspects of development including franchise sales, real estate, design and construction, and operational needs.
As Senior Director of Multi-Unit Development at Papa Murphy's International from 2016-2017, he handled marketing activities and lead generation for multi-unit franchise sales and provided strategic direction to the Executive Team with regards to multi-unit franchise recruiting and new market entry.
Previously, Biedenbender's progressive experience has also included roles in franchise development at Quizno's, Dunkin', Rita's, and Re/Max International. He is an International Franchise Association Certified Franchise Executive as well as a member of the International Council of Shopping Centers.
"Home ownership is growing and consumers are now trying to figure out how to use their space as a home, an office, and a school for their children," said Adam Biedenbender. "Those trends position us to continue the upward trajectory of the unit economics while increasing the market share and national footprint of our franchise system. I'm excited to join this great team and hope to leverage my experience in franchising to this booming industry and these two great brands."
For information on franchise opportunities with Closet & Storage Concepts / More Space Place, contact: Adam Biedenbender at (800) 862-1919 x 1009 or email a.biedenbender@cscmsp.com
About Closet & Storage Concepts / More Space Place
Headquartered in West Berlin, NJ, Closet & Storage Concepts / More Space Place designs, manufactures, and installs a wide variety of custom closet, Murphy wall bed, garage, laundry room, pantry, home office and other space-saving home furnishing products. The company was founded in 1987 by President and CEO Bob Lewis in the southern New Jersey/Philadelphia market. In 2000, Closet & Storage Concepts began offering franchise opportunities in the United States and Canada. In 2013 the company acquired the More Space Place franchise system. The privately held company has 43 locations, three company-owned and 40 franchise-owned, in 18 states and is a member of the International Franchise Association. For more information, please call 1-800-862-1919 or visit http://www.closetandstorageconcepts.com or http://www.morespaceplace.com.