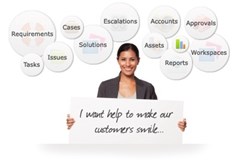 Rajneesh Chadha Joined CRMnext, #1 Commutable Cloud CRM Solution
Delhi, India (PRWEB) February 04, 2014
CRMnext, #1 commutable cloud CRM product company announces the joining of Rajneesh Kumar Chadha as Director - Global Delivery. Rajneesh will manage CRMnext's global delivery team to drive the company's product implementations and associated services worldwide.
Rajneesh brings rich and varied experience of over 25 years with expertise in delivery management across various domains in Indian and global markets. He has managed large and complex programs, business units with P & L responsibility and driven aggressive delivery engagements. He is also a turnaround specialist, having turned around loss making projects and accounts in a short span of period.
Prior to joining CRMnext as Director - Delivery, Rajneesh has worked with many distinguished IT companies such as TCS, Nucleus Software and HCL. One of his key assignments in the past have been with TCS as Project Director - Passport Seva Project - the largest among Mission Mode Projects of the Government of India, in PPP mode with Ministry of External Affair, where besides Software Delivery, Rajneesh was also responsible for Security, Service Delivery, Infrastructure, Architecture, Financials and Business operations for the project. Some other accounts/projects turned around and managed, with complete ownership were CVS Pharmacy-for their mainstream application replacement, GE Plastics-as Global Relationship Manager, RABO-KBC Bank- Quartz implementation etc.
He has also worked as Senior Vice President with Nucleus Software, where he turned around and managed Nucleus's then only program from European client – General Motors Acceptance Corporation, which was planned for product implementation in some 16 countries globally.
Speaking on the occasion Nishant Singh, CEO, CRMnext said, "We have gained leadership in the Cloud CRM space among large enterprises notably in the banking and financial services space. With many new exciting and large projects in pipeline, getting Rajneesh on board will significantly strengthen our leadership team and execution capability."
Talking on his new role as Director - Delivery, CRMnext, Rajneesh said, "I am delighted at the opportunity to work for a company that has changed the paradigm regarding product development and its implementation. With a single codebase for over 30 implementations, regular automatic upgrades and all integrations re-factored internally, CRMnext has taken the definition of product farther than what IT world knows of. It is a privilege to work for CRMnext that believes in taking customer experience to beyond expectations. Delivering first time right-every time, delivery certainty, with quality to bring excellence in customer delight, and support other functions in CRMnext would be my vision for delivery organization in CRMnext."
About CRMnext:
CRMnext is the No.1 Commutable Cloud Customer Relationship Management solution company. It is available on both, public cloud, and private cloud, with proven large. It has to its credits the largest single platform banking CRM implementation.
CRMnext team has established technology and practice leadership in multiple industry verticals including banking, insurance, financials, telecom, media, pharma etc. where it works with companies to help them acquire, retain and grow their customer base boosting profitability. CRMnext team works closely with its customers, leveraging their extensive domain expertise to enhance business efficiency by improving processes and practices. It has set benchmarks in the CRM industry with innovations like Autobot upgrades, Autonoma integration and shape-shifting architecture which has brought paradigm shift in the implementation, ownership experience and TCO of CRM solutions.
It caters to all customer related processes including marketing, sales, service, performance, onlines sales, analytics and mobility providing a single platform to align all the departments towards delivering a great customer experience.
To know more information about Cloud CRM Software; Visit http://www.crmnext.com/