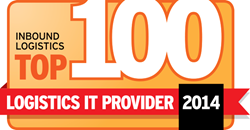 For the third year in a row, Inbound Logistics recognized Blue Ridge...for enabling supply chain planning excellence and producing bottom-line results.
Atlanta, GA (PRWEB) April 30, 2014
Blue Ridge announced today that Inbound Logistics Magazine has named the company a 2014 Top 100 Logistics IT Provider. For the third year in a row, Inbound Logistics recognized the Blue Ridge Cloud demand forecasting, planning and replenishment solutions for enabling supply chain excellence and producing bottom-line results.
On the heels of being named to the Gartner Magic Quadrant for Supply Chain Planning System of Record, Blue Ridge sees its inclusion in the Top 100 Logistics IT Providers list as another honor for bringing innovative capabilities to the market. "It has always been our goal to provide uniquely precise Cloud supply chain planning capabilities that will drive continuous improvements to our customers' bottom lines," stated Greg White, CEO of Blue Ridge. "As one of the industry's foremost awards, it's an honor to again be included in Inbound Logistics' list of the Top Logistics IT Providers."
Blue Ridge solutions leverage consumer demand to drive forecasts, and then translate demand and other data to create plans, replenishment recommendations, and to comply with supply and logistics constraints. The single solution suite is fully automated and provides a 'single version of demand truth,' from which organizations gain the visibility to manage operations more profitably. The capacity provided by the Blue Ridge Cloud platform enables significant precision and scalability, while simplifying deployment for today's multi-channel demands.
Inbound Logistics' editor Felecia Stratton noted the ever-evolving supply chain landscape is leading many enterprises to rethink their approach to the supply chain, "Increasing operational complexity caused by shifts to demand-driven practices, multi-channel environments, and increased collaboration mean greater challenges for those seeking to match demand to supply." She went on to say, "It's impressive to see Blue providing the flexibility and solutions that forward-thinking enterprises need to face supply chain challenges in 2014."
About Blue Ridge
Blue Ridge Cloud supply chain planning and analytics solutions provide next-level visibility and precision in demand forecasting, planning and replenishment to retailers, distributors, and manufacturers. By optimizing product availability, inventory, and logistics costs, these companies increase cash flow by 50 percent or more and improve sales by double-digits, while stabilizing or even reducing inventory up to 30 percent. Blue Ridge demand-driven solutions can be implemented in as little as 90 days and scaled to the most complex supply chains. For more information, visit http://www.blueridgeinventory.com.
About Inbound Logistics
Inbound Logistics is the pioneering publication of demand-driven logistics practices, also known as supply chain management. IL's educational mission is to guide businesses to efficiently manage logistics, reduce and speed inventory, and neutralize transportation cost increases by aligning supply to demand and adjusting enterprise functions to support that paradigm shift. More information about demand-driven logistics practices is available at http://www.inboundlogistics.com.