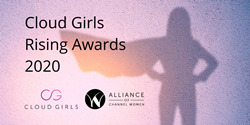 "We're very excited to announce this year's award winners to spotlight female cloud evangelists who make an impact in the emerging technology industry. We hope that this award continues to encourage more women to rise to the occasion and make a difference."
ALISO VIEJO, Calif. and SANTA ANA, Calif. (PRWEB) March 05, 2020
Cloud Girls, a not-for-profit female Next-Gen Tech Think Tank, in collaboration with the Alliance of Channel Women, a not-for-profit organization dedicated to accelerating the growth of female channel leaders in technology, announced today that the fifth annual Cloud Girls Rising Awards will be presented March 11 at the Channel Partners Conference & Expo in Las Vegas.
The Cloud Girl Rising Awards will be given to women in two different categories – Trailblazer and Rising Star – who have demonstrated innovation, solution-orientation and thought leadership in the cloud space in 2019. These women are moving the cloud conversation forward. They go above and beyond every day to make a significant and lasting impact on their companies, clients and professional communities.
2017 Cloud Girls Trailblazer winner Tina Gravel, Senior Vice President of AppGate, will present the Cloud Girls Rising Awards at 3:25 p.m., Wednesday, March 11 at The Channel Partners Theater, which is located on Level 2, Hall C-D, booth 457 at the Channel Partners Conference & Expo at the Sands Expo Convention Center.
"It's exciting to see the growth of women in technology since we started this award five years ago. We developed this award to highlight women in tech who may not be recognized in other forums for the ground-breaking work they are doing to advance cloud solutions for customers and the channel and to inspire more thought leadership and forward movement by women involved in the cloud technology space," said Cloud Girls Co-founder Jo Peterson, Vice President of Cloud Services for Clarify360 and Co-Chair of the Cloud Girls' Brand & Strategy Work Group, which manages the award program.
"We're very excited to announce this year's award winners to spotlight female cloud evangelists who make an impact in the emerging technology industry. We hope that this award continues to encourage more women to rise to the occasion and make a difference."
The winners will receive a trophy along with announcements on the Channel Partners' and Cloud Girls' websites, an award logo for their websites and email signatures, and a one-year complimentary membership in Cloud Girls.
Previous winners of the Cloud Girls Rising Awards include:

2019 Trailblazer Lorraine Bassett, Principal Global Business Development, IoT (Cloud), Amazon Web Services
2019 Trailblazer Cristina Martin-Greysman, Partner Strategist, Amazon Web Services
2019 Rising Star Alexa Sorice, Account Executive, TierPoint
2019 Rising Star Melanie Sunahara, National Channel Director, TierPoint
2018 Trailblazer Lisa Del Real, AVP Global Channel Programs & Operations at RingCentral
2018 Rising Star Jeanine Sicinski, Partner Experience Manager at RapidScale
2017 Trailblazer Tina Gravel, Senior Vice President of AppGate
2017 Trailblazer Dina Moskowitz, Founder and CEO of SaaSMAX
2017 Rising Star Tatiana Sebby, Enterprise Account Executive for 8×8
2016 Trailblazer Janet Schijns, CEO of JS Group
2016 Rising Star Samantha Ciaccia, Senior Marketing Project Manager at Datto
About Cloud Girls
Founded in 2011, Cloud Girls is vendor-neutral, not-for-profit community of female technology advocates dedicated to educating themselves, their organizations and customers about the vast and dynamic cloud ecosystem. By exploring emerging market and technical trends, advocating best practices and building community, Cloud Girls is fostering female thought leaders in next-generation technology. For more information, visit http://www.cloudgirls.org
About Alliance of Channel Women
Established in 2010, Alliance of Channel Women is a not-for-profit organization of women who are in leadership, ownership and revenue-generating roles in the indirect sales channel of the telecom and IT industry. ACW brings us together to empower and advance women's careers and leadership roles in the technology channel. To learn more and to become a member, please visit http://www.allianceofchannelwomen.org