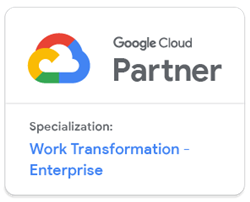 "We've seen hundreds of companies transformed by implementing G Suite across their organizations. We pride ourselves on managing not only the technical side of these migrations but the 'people' side"- Mitch Greenwald, Founder and CEO of Cloudbakers
CHICAGO (PRWEB) December 18, 2019
Cloudbakers announced that it has achieved the Enterprise Work Transformation Partner Specialization in the Google Cloud Partner Advantage Program. By earning the Partner Specialization, Cloudbakers has proven their enterprise expertise and success in building customer solutions around Work Transformation. This proves the team's technical acumen, and their ability to manage cultural change within the organizations they work with.
Specializations in the Google Cloud Partner Advantage Program are designed to provide Google Cloud customers with qualified partners that have demonstrated technical proficiency and proven success in specialized solution and service areas. For this specialization specifically, partners need to demonstrate significant success deploying G Suite to enterprise organizations, which includes providing services across all project work streams – such as Governance, Technical, People, Process, and Support.
To achieve this Specialization, Cloudbakers was required to meet excellence standards in certification, customer success stories and business planning. Additionally Cloudbakers went through a rigorous, four hour capability assessment with a third party auditor. During the review the auditor said: "Google must have chosen you to be the first because of how much experience you have– you will be our benchmark for measuring others."
This is the third Google Cloud Specialization that Cloudbakers has earned within the past year (the other two specializations were Data Analytics and Application Development). Mitch Greenwald, Founder and CEO of Cloudbakers said: "We've seen hundreds of companies transformed by implementing G Suite across their organizations. We pride ourselves on managing not only the technical side of these migrations but the 'people' side: change management, training, and process improvement."
Cloudbakers has five practice areas, all focused on building solutions with and around Google Cloud, from collaboration with G Suite to Data Modernization, Application Development, CRM, and Infrastructure Modernization.
For more information on how to kickstart your cloud strategy, visit http://www.cloudbakers.com.
About Cloudbakers
Cloudbakers is a Google Cloud Premier Partner that has been helping organizations successfully migrate to cloud technologies such as Google Cloud and Zoho for nearly a decade. Being one of only a few Google Cloud Premier Partners, their mix of 50% tech skills and 50% people skills means they bring together custom solutions and side-by-side support, giving you the confidence to leave your old ways behind and embrace the freedom a better cloud can bring. The future of businesses hinges on adopting and adapting to changing technology – that's what Cloudbakers is here to help with. They bring the cloud down to earth. http://www.cloudbakers.com