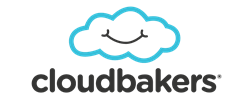 "Joel has supported hundreds of B2B brand clients as a publisher over the years. Now he has the opportunity to focus all of that digital media experience on one single brand in a topic area where he's actually been a practitioner." - Mitch Greenwald, CEO & Founder, Cloudbakers
CHICAGO (PRWEB) March 31, 2020
Joel Hughes joined the executive team at Cloudbakers in March as Chief Marketing Officer. For the past 19 years Joel has supported the technical side of B2B media at multiple B2B publishers in roles covering IT, software engineering, and digital product development & strategy. Joel has also been a Cloudbakers client twice and was an early adopter of Google Cloud technologies.
"We are so excited to have Joel on board to take our content marketing and outreach to the next level. Joel has supported hundreds of B2B brand clients as a publisher over the years. Now he has the opportunity to focus all of that digital media experience on one single brand in a topic area where he's actually been a practitioner. I have known Joel for years and we've worked on multiple projects together so this just makes total sense for us." – Mitch Greenwald, CEO & Founder, Cloudbakers
The CMO role will oversee all brand marketing as well as our strategic alliances with partner vendors like Google Cloud and Zoho.
About Cloudbakers
Cloudbakers is a Google Cloud Premier Partner that has been helping organizations successfully migrate to cloud technologies for nearly a decade. Being one of only a few Google Cloud Premier Partners, their mix of 50% tech skills and 50% people skills means they bring together custom solutions and side-by-side support. Adopting and adapting to changing technology is a difference maker for any business– that's what Cloudbakers is here to help with. They bring the cloud down to earth. http://www.cloudbakers.com