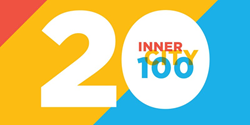 "Inner City 100 companies are forces of economic opportunity, optimism and transformation in their communities." - Steve Grossman, CEO, ICIC
CHICAGO (PRWEB) November 15, 2018
The Initiative for a Competitive Inner City (ICIC) announced that Chicago's Cloudbakers, led by CEO Mitch Greenwald, was awarded the 16th spot on the 2018 Inner City 100 list of the fastest-growing inner city businesses in America.
"Inner City 100 companies are forces of economic opportunity, optimism and transformation in their communities. They lead the way in innovation, job creation and economic revitalization and it's an honor to shine the spotlight on their leadership and accomplishments," said ICIC CEO, Steve Grossman.
As Google Cloud's Premier Partner, Cloudbakers strategically leverages the Google ecosystem to provide both their own workforce and their clients with tools that drive that innovation, transformation, and optimism.
"Cloudbakers is honored to receive this award for the third year in a row," replied Mitch Greenwald, "The true innovation lies in how our employees build with and provide technology insights to serve our clients and our clients' clients. As we face tremendous growth, we continue to hire for employees who are passionate about our mission."
This distinction is among other 2018 highly reputable recognitions including the Inc. 5000 list for the fourth year in a row, Great Place to Work, by the Great Place to Work® Institute, one of the 2018 Best Places to Work in Chicago, by Crain's, and now #16 on the Inner City 100 list.
Now celebrating its 20th year, ICIC's Inner City 100 list has long celebrated urban entrepreneurship. Since its inception, ICIC's list has recognized 975 companies, which have seen average growth rates of more than 400 percent during a five-year period and have collectively created more than 126,000 meaningful jobs in America's distressed and underserved communities and neighborhoods. The Inner City 100 program opens doors for other budding urban entrepreneurs and stimulates inner city business development and job creation through recognition, networking and learning.
"These businesses and their owners are a testament to the impact innovation and entrepreneurship have had in rejuvenating urban areas across the U.S. Companies such as Cloudbakers are experiencing revenue growth and increased investment, which are in turn creating more jobs and economic opportunity for citizens in the communities where these companies call home" said ICIC President and COO, Matt Camp.
Initiative for a Competitive Inner City (ICIC)
ICIC is a national nonprofit founded by Harvard Business School professor Michael E. Porter. ICIC's mission is to promote economic prosperity in America's inner cities through private sector investment that leads to jobs, income and wealth creation for local residents. Through its research on inner city economies, ICIC provides businesses, governments and investors with the most comprehensive and actionable information in the field about urban market opportunities. The organization supports urban businesses through the Inner City 100, Inner City Capital Connections, Goldman Sachs 10,000 Small Businesses program, and Santander Bank's Cultivate Small Business program. Learn more at http://www.icic.org.
Cloudbakers | Google Cloud Premier Partner
Cloudbakers collaborates with business leaders to create innovative cloud solutions, allowing them to focus on strategic challenges that support their purpose. Cloudbakers' cloud migration experts and user adoption specialists are Google certified innovators, experienced in road-mapping pragmatic solutions, implementing those solutions, and managing change. Cloudbakers utilizes multiple products in the Google Cloud ecosystem. From custom development, infrastructure, data analytics and machine learning projects on Google Cloud Platform to G Suite, CRM and other premier SaaS products, Cloudbakers helps companies best leverage their Google investment. Learn more at http://www.cloudbakers.com.