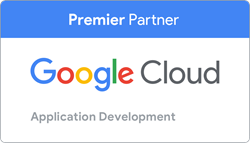 "We are dedicated to our clients' success. Our Google Cloud expertise paves the way for them to innovate and scale." - Mitch Greenwald, CEO & Founder, Cloudbakers
CHICAGO (PRWEB) December 20, 2018
Cloudbakers today announced that it has achieved the Application Development Partner Specialization in the Google Cloud Partner Program. By earning the Partner Specialization, Cloudbakers has proven their expertise and success in building customer solutions in the Application Development field using Google Cloud Platform technology.
Google Cloud Partner Specializations are designed to provide Google Cloud customers with qualified partners that have demonstrated technical proficiency and proven success in specialized solution and service areas.
Partners that have achieved this Specialization have demonstrated success building and managing applications using the best of the Google Cloud Platform in both web and mobile environments.
Cloudbakers has used Google Cloud Platform to build unique applications in a variety of industries including financial services, manufacturing, real estate, non-profit, and technology, among others. These custom development initiatives range from order processing applications to automated portfolio scorecards to video conferencing solutions and document imaging. Vibrant Credit Union is a current Google Cloud and Cloudbakers customer benefitting from these innovative capabilities to exceed service expectations, improve productivity, and save hundreds of thousands of dollars.
"We are dedicated to our clients' success. Our Google Cloud expertise paves the way for them to innovate and scale. Cloudbakers is honored to be a Google Cloud Premier Partner for the Google Cloud Platform and G Suite. Being awarded the Application Development Partner Specialization further proves that our work on these technologies is more than a passion – it's a critical service that will allow our clients to be disruptors in their industries," says Mitch Greenwald, CEO and Founder of Cloudbakers.
The Google Cloud Premier Partner is excited to continue growing their Application Development practice and provide more clients with access to reliable, scalable, and secure technology using Google Cloud Platform.
About Cloudbakers
Cloudbakers collaborates with business leaders to foster innovation through strategic cloud solutions. Cloudbakers' Google-certified cloud migration experts and user adoption specialists are making the complex simple with their experience in road-mapping pragmatic solutions, implementing those solutions, and managing change. Cloudbakers utilizes multiple products in the Google Cloud ecosystem. From custom development, infrastructure, data analytics and machine learning projects on Google Cloud Platform to G Suite, CRM and other premier SaaS products, Cloudbakers helps companies best leverage their Google investment. http://www.cloudbakers.com