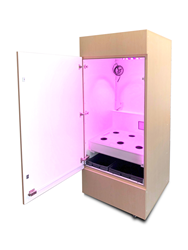 SAN FRANCISCO (PRWEB) November 19, 2018
Cloudponics, maker of the GroBox, the intelligent, fully-automated IoT aeroponic plant growing system for the home, today announced a discount of $420 for its industry-leading product during the holiday season.
Customers can save up to $420 off the $2690 GroBox if paid in full, with other discount and payment options available on the Cloudponics website.
"We aim, through this discount, to give consumers access to a fully-automated, healthy and simple method for growing plants," said Pepijn van der Krogt, cofounder and CEO, Cloudponics.
The GroBox is simple yet adaptable to the grower's level of experience. From a beginner to an expert, anyone can cultivate their own high-yielding, high-quality plants in about three months' time from the convenience, comfort, and safety of their home.
The Cloudponics technology can be used to grow a variety of plants and produce, with special features designed to ensure the security and discretion of your plants, such as an odor filter, app-controlled door lock, and lights specifically designed for growing.
For additional information, please visit http://www.cloudponics.com.
About Cloudponics
Cloudponics developed the GroBox, the IoT system for autonomously growing high-yielding, high-quality plants. Cloudponics' GroBox system intelligently creates the ideal growth conditions for consistent, predictable, and repeatable yields. The GroControl is Cloudponics' automated controller that allows growers to remotely monitor and automate any size of indoor grows with nutrient dosing, pH sensoring, and climate control. Founded in 2015 and led by entrepreneurs Pepijn van der Krogt and Nicolas Ruiz, Cloudponics is headquartered in San Francisco. For more information, visit http://www.cloudponics.com or follow us on Twitter, Instagram, and Facebook.