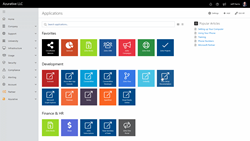 "The new integration between Autotask PSA and CloudRadial adds exciting new client portal capabilities for our MSP partners that will help them grow and manage their business," -- Joe Rourke, Director of Product Management, Autotask PSA at Datto
DALLAS (PRWEB) March 07, 2019
CloudRadial today announced a new integration with Datto Autotask PSA which allows MSPs to upgrade their client portal with a wide variety of new capabilities to improve account management and grow existing client revenues. CloudRadial provides a complete ticketing portal option for the Autotask PSA client portal and adds:
1. Service catalog presentation
2. Office 365 reporting
3. Endpoint, server and application reporting
4. Integrated knowledge base
5. Automated QBR reporting
CloudRadial integrates with other common tools such as IT Glue, Wise-Pay, ConnectBooster and Warranty Master to bring those systems together into a single-pane-of-glass for clients.
"The new integration between Autotask PSA and CloudRadial adds exciting new client portal capabilities for our MSP partners that will help them grow and manage their business," said Joe Rourke, Director of Product Management, Autotask PSA at Datto. "CloudRadial's service catalog, ticket portal, learning center, Office 365 license, and usage reporting are delivered to MSP clients through an intranet portal enabling an MSP's clients to have a truly seamless experience."
Jeff Farris, President of CloudRadial says, "An MSP's relationship with their clients now extends far beyond just ticketing. CloudRadial brings that complete partnership into focus. It expands the traditional ticketing portal to become a proactive account management platform."
These new capabilities are available immediately with special introductory pricing. More information can be found at the CloudRadial website https://www.cloudradial.com or by contacting CloudRadial directly at (866) 679-4025.
About Datto
As the world's leading provider of IT solutions delivered by Managed Service Providers (MSPs), Datto believes there is no limit to what small and medium businesses can achieve with the right technology. Datto offers business continuity and disaster recovery, networking, business management, and file backup and sync solutions, and has created a one-of-a-kind ecosystem of partners that provide Datto solutions to half a million businesses across more than 130 countries. Since its founding in 2007, Datto has earned hundreds of awards for its rapid growth, product excellence, superior technical support, and for fostering an outstanding workplace. With global headquarters in Norwalk, Connecticut, Datto has international offices in the United Kingdom, Netherlands, Denmark, Germany, Canada, Australia, China, and Singapore. Learn more at datto.com.
About CloudRadial
CloudRadial is the #1 account management solution for MSPs and Microsoft CSPs. CloudRadial lets these providers scale their account management efforts to sell more, work less and create happier clients. For more information visit https://www.cloudradial.com.