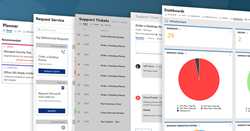 As both a SyncroMSP and CloudRadial client, I'm very pleased to be able to provide an integrated client portal that is not only fully integrated with our PSA, but provides our end users with lots of other functionality to ensure they adopt it as their primary means of working with us
DALLAS (PRWEB) November 18, 2020
CloudRadial, the leading white-labeled client portal powered with account management automation for managed service providers (MSPs) announced a new integration that allows its partners to enjoy a full integration with their Syncro PSA. As part of the MSP client portal experience, those using Syncro as their PSA can submit ticketing from CloudRadial to Syncro and check the status of open tickets.
Currently, CloudRadial fully supports the Syncro API including the following features:

Selection of Syncro as a supported PSA
Matching Syncro companies to CloudRadial companies
Syncing contacts between Syncro and CloudRadial
Updating Syncro contacts from Office 365
API submission of tickets
Ticket viewing and searching
Ticket updates with feedback
User notes viewing
User file upload
Invoice viewing and the ability to open into Syncro portal
Workflow for company admin approvals
The Syncro integration immediately empowers MSPs, using Syncro as their PSA, to streamline problem tickets with customized questions, dynamic forms, checklists and approval routing. A service catalog is accentuated for new service request tickets to define a simple buying process.
"We're continuing to grow our broad list of partners that specifically enhance the MSPs ability to automate and modernize their feature set. CloudRadial's client support and account management features are very appealing to the MSP that wants to thrive" said Ian Alexander, co-founder of Syncro.
"As both a SyncroMSP and CloudRadial client, I'm very pleased to be able to provide an integrated client portal that is not only fully integrated with our PSA, but provides our end users with lots of other functionality to ensure they adopt it as their primary means of working with us" said Daniel Tobon, founder and owner of Tsquared Technologies.
The end users of Syncro partners can access ticketing, company intranet, training, knowledge base and more from a single login portal or desktop application. In addition, the client admins of Syncro partners will have advanced insights into ticketing, CSAT, infrastructure reporting, vCIO planning and more. CloudRadial provides the ability for Syncro partners to automate and scale account management processes while providing a modern customer experience.
Jeff Farris, CEO of CloudRadial shared, "Our partners take customer experience seriously and are aware that the typical ticketing portal is not enough to stay current. Cutting-edge MSPs are looking to solutions like CloudRadial and Syncro to more profitably be involved with their clients' productivity and success."
The new Syncro integration is available immediately with special introductory for Syncro partners for a limited time. More information can be found at the CloudRadial website or by contacting CloudRadial directly at (866) 679-4025.
About CloudRadial
CloudRadial is the #1 account management automation platform (AMA) for MSPs. CloudRadial is a comprehensive client portal that picks up where a typical PSA, such as ConnectWise, Autotask or SyncroMSP, leaves off and helps MSPs become as proactive with client account management and growth as they are with their service delivery. For more information visit https://www.cloudradial.com or follow @CloudRadial on Twitter.
About SyncroMSP
SyncroMSP is a software platform that helps Managed Service Providers (MSPs) support SMBs all over the world. It combines a full-featured Professional Services Automation Platform (PSA), embedded Remote Monitoring and Management Solution (RMM) and built-in Remote Session tool into one platform to help MSPs save time and money by avoiding the need for multiple software solutions. To learn more, visit https://syncromsp.com.
Media Contact
Seth Wilson
Director of Marketing
seth@cloudradial.com
(863) 220-7191