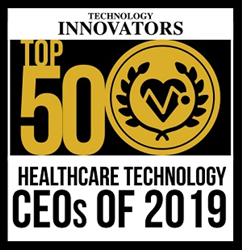 That brought home the gravity of what we do – and there's a family I know who didn't have to go through the unimaginable experience of losing a child.
SEATTLE (PRWEB) October 17, 2019
Gerry Miller was among 50 Healthcare Technology CEOs honored by Technology Innovators in the magazine's October 2019 issue. Miller is the Founder & CEO of Cloudticity, a pioneer in providing HIPAA-compliant cloud solutions.
With the healthcare space undergoing a massive digital transformation, Cloudticity has long been an advocate for using cloud-driven technology to fix what Miller calls a "severely broken" system. The profile singles out Miller's inquisitive spirit for problem solving, as well as his priorities in balancing business goals with human needs.
Miller is proud that Cloudticity was instrumental in aiding a client's toddler daughter, who had a hairline leg bone fracture brought about by complications from open-heart surgery. Because the Cloudticity-built HIE (health information exchange) contained her entire medical history, the girl's family was connected to a cardiologist who saved her life.
The profile notes Miller's approach for providing his team with a combination of freedom and support, putting in place the necessary tools and procedures in the early stages of a project to allow for maximum independence and innovation later on.
In this way, Miller's leadership is akin to the automated technologies his company develops, working to solve for his customers' compliance, security, and scalability needs while also anticipating what's around the corner. Read the full profile to learn more about makes Miller and Cloudticity's latest distinction as trailblazers in healthcare technology.
While the award was the first of its kind for Miller, Cloudticity has been honored with a number of distinctions in the last year. It was named a Tech Elite Solution Providers by CRN® in 2018 and one of Inc. Magazine's Best Workplaces in 2019.
These are in addition to Cloudticity's many healthcare industry accomplishments, such as HITRUST Certification, AWS Advanced Partner Status, and AWS Audited Managed Services Provider status – not to mention its distinction as the first HIPAA-compliant cloud solution.
About Cloudticity
Cloudticity, based in Seattle, WA, helps healthcare organizations design, build, migrate, manage, and optimize HIPAA-compliant solutions on Amazon Web Services (AWS). Founded in 2011, Cloudticity has helped providers, payers, and companies that sell to the healthcare industry remain secure, compliant, and highly available to patients and customers that rely on them. For more information, visit Cloudticity.com.