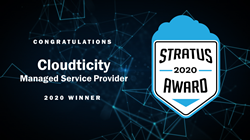 "Cloudticity is at the forefront of the cloud helping to drive practical innovations in the cloud."– Maria Jimenez, Chief Nominations Officer of Business Intelligence Group
SEATTLE (PRWEB) December 15, 2020
The Business Intelligence Group today announced that it has awarded Cloudticity™ (https://www.cloudticity.com) a 2020 Stratus Award in their annual business award program. The organization sought to identify the companies, products, and people that are offering unique solutions that take advantage of cloud technologies.
Cloudticity is a next-gen managed services, compliance, and security partner for healthcare organizations. Companies leverage the cloud through Oxygen™—Clouticity's HITRUST-certified managed cloud solution designed to accommodate the unique constraints of healthcare with groundbreaking automation. By offloading infrastructure operations, security, and compliance management to Oxygen, healthcare IT leaders utilize Cloudticity's deep cloud expertise, free up internal resources, and unleash their ability to innovate.
"Our team is dedicated to creating powerful solutions that change the way people engage with healthcare." said Gerry Miller, Founder & CEO of Cloudticity. "By harnessing the full potential of the cloud, Cloudticity prides itself on being a strategic digital healthcare enablement partner for organizations looking to optimize their digital strategy and keep pace with rapidly changing industry needs and regulations."
"Cloudticity is at the forefront of the cloud helping to drive practical innovations in the cloud," said Maria Jimenez, Chief Nominations Officer of Business Intelligence Group. "The cloud is now part of the fabric of our personal and professional lives and we are thrilled that our volunteer judges were able to help promote all of these innovative services, organizations, and executives."
About Cloudticity
Founded in 2011, Cloudticity is a digital enablement partner for the healthcare industry. Through groundbreaking automation and deep cloud expertise, Cloudticity solutions empower healthcare organizations to create and scale the next generation of healthcare solutions. Distinguished for having built some of the earliest and largest health systems on the cloud, including the first patient portal, the first health information exchange (HIE), the first FISMA high deployment, and the first Meaningful Use 2 (MU2) compliance attestation for a large hospital system, Cloudticity enables healthcare to thrive in the digital era. Innovate faster, improve care, maintain compliance, and drive long-term growth with Cloudticity managed solutions. For more information, visit http://www.cloudticity.com.
About Business Intelligence Group
The Business Intelligence Group was founded with the mission of recognizing true talent and superior performance in the business world. Unlike other industry and business award programs, business executives—those with experience and knowledge—judge the programs. The organization's proprietary and unique scoring system selectively measures performance across multiple business domains and then rewards those companies whose achievements stand above those of their peers.
Media Contact:
Sterling Communications
Michelle Denny
+1 (408) 395-5500
Cloudticity@sterlingpr.com