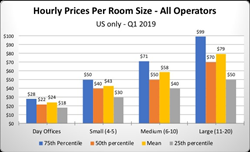 SAN FRANCISCO (PRWEB) April 08, 2019
CloudVO, the San Francisco-based online provider of virtual office space and meeting rooms that has set the agenda in the Workplace-as-a-Service ™ industry since its inception in 2010, released a detailed pricing analysis of more than 20,000 meeting rooms, out of 3,378 serviced offices and coworking locations in the U.S. (collectively referred to in the report as Flexible Office Spaces).
The data compiles prices and capacity of meeting rooms available for booking online, directly from the providers own websites or via reseller sites like CloudVO, Liquidspace, and Davinci. These reseller sites are to the flexible office industry what Expedia, Travelocity or Hotels.com are to the hotel industry.
The focus of the survey is on small meetings (2 to 20 people), which flexible office providers are better equipped to support than any other alternative. The survey does not include data from hotels or conference centers that have a different value proposition and typically charge higher rates than flexible office providers for smaller meetings.
Among interesting observations drawn by the CloudVO data team are the number of meeting rooms available for booking online has more than doubled since 2016 due to the following:
1) a significant increase in the number of shared office space providers over the period
2) an increase of meeting room inventory by the providers who were already active in that business in 2016
3) a wider adoption of online booking and e-commerce technology by flexible office providers
4) an increase in demand for off-site meetings, particularly by corporate users
The data shows interesting differences of strategies by operators. The report contrasts the approach of market leader Regus with that of other operators. For example, Regus uses its technology platform to systematically add vacant private offices on their inventory of day offices. The result is that 94% of the Regus locations in the U.S. have at least one day office available when booking online just two weeks in advance, while 64% of CloudVO partners and only 35% of other providers will have at least one day office available in the same circumstances. The data also suggests a much more aggressive pricing of day offices by Regus than by most of its competition ($22.4 versus $32.7 hourly rate on average throughout the United States). However, there is roughly a quarter of non-Regus operators that are as aggressive than Regus on that segment of the supply.
Conversely, the data shows that Regus lags CloudVO partners with inventory of medium and large meeting rooms available for booking online, and charges a significantly higher price than its competition ($104.3 for Regus versus $75.4 for all other operators per hour on average for meeting rooms of 11 to 20 seats). Note that Regus informed us that they now use a dynamic pricing approach which may result in better or worse deals then what was captured by the study, presumably depending upon the level of utilization of the room and perhaps other factors at the time of booking.
The study highlights that a segment of providers with a larger inventory of rooms than most does serve the demand extremely well. Five percent of non-Regus providers offer 6 meeting rooms or more compared with only 2.5 meeting rooms on average for the rest of the non-Regus providers. The numbers for CloudVO partners are 7 meeting rooms at the 95th percentile with 3.5 rooms on average available for booking. Those at the 95th percentile also tend to be the most profitable operators.
Regional differences are significant. New York City (67% more expensive than the U.S. average for 11 to 20 seat rooms) and Washington D.C. (38% more) are the most expensive markets, while Florida for example is ~10% less expensive than the U.S. average.
Compared to the 2016 survey, there is a surge in volume of smaller-sized meetings (5 or fewer people) in percentage of the total. Provider Pacific Workplaces increased its inventory of meeting rooms and day offices in virtually all of its locations, and also switched its mix towards smaller rooms (5 seats or less), which now represent 56% of the total inventory versus 45% in 2016.
CloudVO's CEO Laurent Dhollande commented: "In general, end-users are very price sensitive for very small meetings (3 people or less), but not as sensitive when the meeting involves 5 to 20 people. This is because small meetings can take place in many other places, including the meeting host's own office, a hotel lobby, or at Starbucks. On the other hand, a meeting that involves a larger number of people requires more solid infrastructure. It cannot go wrong. Flexible office providers with on-premise staff who are versed in supporting mission critical meetings are well positioned to meet that demand. The smart operators tend to price small rooms aggressively as the small bookings often feed larger meeting needs by the same users later on."
CloudVO typically resells local virtual offices and meeting rooms at the same price as its local partners, but can augment their offering with centralized services, including live phone answering, unified messaging, live chat, concierge services, call center, and support services. CloudVO also provides CloudTouchdown subscription cards to end-users with network-wide access to a growing network of close to 700 independent providers worldwide.
To its workspace provider partners, CloudVO offers expanded marketing opportunities, rigorous screening, fraud watch capabilities, and preferential benefits to their members.
To end-users CloudVO provides on-demand access to virtual offices, meeting rooms, and coworking spaces available on a pay-per-use basis or on a subscription model, a label of quality, standardization of service offerings, and a professional service delivery throughout its network.
A high level summary of the survey is available to download at CloudVO's Resource Library. Partners can have access to more details.
###
About CloudVO™
CloudVO is the umbrella brand of Cloud Officing Corp, headquartered in San Francisco, California. CloudVO's mission is to provide comprehensive virtual office and meeting room solutions to professionals under a Workplace-as-a-Service ™ model. CloudVO operates the CloudTouchdown network that grants preferential access to day offices and meeting rooms at 650 locations worldwide for mobile workers and distributed workforces under a subscription model or on a pay-per-use basis.