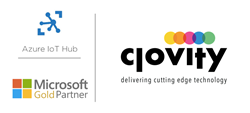 "The Microsoft Gold Competency allows Clovity to expand our IoT, Cloud and Data expertise and relationship with Microsoft to our customers
SAN FRANCISCO (PRWEB) December 18, 2018
Clovity, CIOReview's Top 20 IoT Solution Provider who's motto is " Thinking Agile | IoT | Edge | Data | Cloud Digital | Smart Cities - Think Clovity," today announced it has attained a Microsoft Gold Solution Partner competency, demonstrating a "best-in-class" ability and commitment to meet Microsoft Corp. customers' evolving needs in today's mobile-first, cloud-first world and distinguishing itself within Microsoft's partner ecosystem.
To earn a Microsoft gold competency, partners must successfully complete exams (resulting in Microsoft Certified Professionals) to prove their level of technology expertise, and then designate these certified professionals uniquely to one Microsoft competency, ensuring a certain level of staffing capacity. They also must submit customer references that demonstrate successful projects, meet a performance (revenue and or consumption/usage) commitment (for most gold competencies), and pass technology and/or sales assessments.
Clovity is deeply vested in bringing the Enterprise IoT from Ideation to Unified Customer Experience, by unleashing the power of Azure Cloud and Big Data technologies. Clovity is focused in working with its clients leveraging the Microsoft suite of products on embracing the new age world of Edge, 5G, Enterprise IoT & Azure deployments, by putting together the right mix of Microsoft Products and Services through its Microsoft Certified Global engineering and technology teams to implement fully integrated edge-to-cloud-to-enterprise solutions. The impressive outcomes have simplified the Internet of Things (IoT) solutions, provided data to cloud interoperability and enabled digital platforms for tomorrow's connected world. Clovity has demonstrated industry-leading expertise with Microsoft technologies in Application and Infrastructure services like Azure Cloud, MS Dynamics, HDIsights, Active Directory, Azure Data Factory, Stream Analytics, Visual Studio, Event Hubs, Redis Cache, Blob Storage, etc. with a proven ability to meet and exceed customers' needs.
We are extremely pleased to be recognized by Microsoft again as Gold Certified Partner in the Microsoft Partner Program. These competencies allow us to clearly promote and expand our IoT, Cloud and Data expertise and relationship with Microsoft to our customers said Chris Medina, Clovity's Chief Strategy Officer. "Our Gold Certified Partner status provides us benefits will allow us to continue to enhance the offerings that we provide to our customers leveraging the power of Azure and Azure IoT ecosystem. This is an extraordinary accomplishment for Clovity as it continues to demonstrate the commitment to our clients and Clovity's capabilities to provide expertise in Microsoft suite of products and services".
"By achieving a Gold competency, partners have demonstrated the highest, most consistent capability and commitment to the latest Microsoft technology," said Gavriella Schuster, corporate vice president, One Commercial Partner (OCP) at Microsoft Corp. "These partners have a deep expertise that puts them in the top of our partner ecosystem, and their proficiency will help customers drive innovative solutions."
The Microsoft Partner Network helps partners strengthen their capabilities to showcase leadership in the marketplace on the latest technology, to better serve customers and to easily connect with one of the most active, diverse networks in the world.