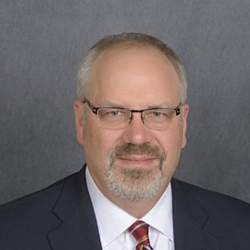 SAN FRANCISCO (PRWEB) July 17, 2018
Clovity Inc. (http://www.clovity.com), leading IoT, Cloud, Big Data, Digital solution company is pleased to announce the appointment of Rick (Richard) Neafus, former Partner, Healthcare and Life Sciences Practice from Teradata. Rick will be focused on bringing emerging technology solutions for an industry poised to revolutionize their customer experience and care. With his executive experience across major sectors of Healthcare and Life Sciences, Rick will be focused on driving strategic transformation programs with some of the biggest brands in this domain.
"We are excited to be bringing on Rick Neafus to join our strategic advisory board. This addition will further strengthen our investments and focus on the Healthcare and Life Science industries. We see this as a major aspect to our growth in the coming months. Rick's mentorship, understanding, and passion for emerging technology in the Healthcare and Lifesciences domain will continue to drive our company as one of the top IoT and Cloud solution providers," said Clovity's CEO Anuj Sachdeva. Anuj further added, "By understanding these technology lead transformations over multiple years and across industry sectors, as Rick does, gives us the ability to provide strategy and guidance at a level others cannot."
Rick has been driven by innovation in healthcare, most recently the transformation to a consumer-focused model utilizing emerging technologies like IoT, Cloud, and others to enhance customer experience. He has focused on creating high-value strategies, products and services around data and analytics, including numerous industry-first solutions, to allow companies to realize maximum commercial value from the data they collect. By truly understanding the marketplace in which he serves, he is able to precisely guide clients regarding the most effective spend of their capital. Rick has worked for Fortune Enterprises like Optum Insight, Mayo Clinic, Merck, Medco (Express Scripts), Prime Therapeutics, SmithKline Beecham (GSK), Cardinal Health that span industry sectors like Payer, Provider, Pharmaceutical. His location in the hot bed of these industries will allow Clovity to service new and existing client's in a high-touch fashion.
In his previous role where he was spearheading Teradata's Healthcare and Life Science Practice, Rick interacted with some of the most prominent companies in the industry and observed that there is a keen interest in engaging connected devices. By generating the "Next Generation of Real World Data," connected devices have the potential to provide data that doesn't currently exist and create a new level of care by enabling doctors and patients to manage their health wherever they are located. But he observes that there are key barriers that are delaying adoption and impeding the realization of RoI in Healthcare.
Rick states "I am impressed with Clovity and its phenomenal growth over the few years and see them as a game-changer in the Connected Healthcare & Lifesciences domain. Clovity continues to lead the pack of global top 20 IoT Solution Providers through their unique ability to remove the barriers experienced in Healthcare but are in a position to lead and accelerate the expansion of connected devices and help unlock value in Healthcare."
Rick sees the next year as a critical transition period for the Healthcare Industry to engage these technologies. Those who do not will be faced with playing catch-up while leaders will quickly move ahead with their expanded functionality and significant RoI. In his new role, he will assist Clovity in helping their Healthcare clients to maximize their resources to develop their first-of-kind technology to revolutionize the way they do business going forward.
For more information about Clovity visit: http://www.clovity.com. For media inquiries, contact Natalie at marketing(at)clovity.com or 925-264-6360
Clovity's cognitive strength lies in the amalgamation of two powerful ideas - collaboration and transformation. Clovity emphasizes on combining thought leadership, innovation and passion for technology together to achieve successful transformation and disruptive solutions for Banking Finance, Healthcare and Retail industries that are IoT, Cloud, Consumerization and Big Data focused. Clovity's commitment to innovation has led to many Plug and Play solutions and frameworks in IoT (CSensorNet), Predictive Analytics, DevOps, Mobility etc. that enables customers for faster time to market product launches. Clovity underpins its solutions with deep Agile expertise by leveraging its Agile Framework: Synthesis in every aspect of customer journey to ensure complete collaboration and transparency. Clovity key is to work in absolute synchrony with customers to deliver solutions and projects to create scalable technology foundation and architecture for all future advancements.