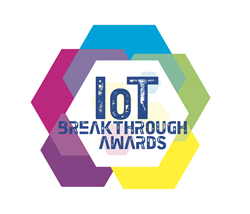 We extend our sincere congratulations to the entire Clovity team on their well-deserved 2020 IoT Breakthrough Award
LOS ANGELES (PRWEB) January 07, 2020
IoT Breakthrough, a leading market intelligence organization that recognizes the top companies, technologies and products in the global Internet-of-Things (IoT) market, today announced that Clovity, creator of the proprietary CSensorNet IoT & Smarty City accelerator platform, has been selected as the winner of the "Emerging Company of the Year for the Enterprise Market" award in the 4th annual IoT Breakthrough Awards program. Clovity was chosen out of 3,500 global submissions as one of the top IoT solutions for an emerging company focused on enterprise verticals alongside other major players in various IoT award categories like Cisco, Schneider Electric, Honeywell, Apple, GE, Ring and IBM.
Clovity works to develop smart products and connected solutions for companies and cities throughout the US. They are rapidly growing by partnering with many global hardware, connectivity, and cloud providers to bring a holistic solution to their clients under one roof. With their current announcement of IoT-as-a-Service models, hardware bundles, and the newest iteration of the CSensorNet just being released, Clovity is poised for a strong 2020. Their platform enables quick device provisioning, management, connectivity, encryption, edge computing, visualization, and integration all out of the box. CSensorNet is built and is highly customizable to fit hundreds of use cases instead of limiting their clients to a handful of them.
The Company has successfully partnered with several global IoT solution providers to create an Edge-to-Experience platform for Smart City customers wanting to get started or scale in their connected citizen, infrastructure and operational aspirations. Partnerships include Microsoft, Advantech, Arrow Electronics, Cassia, Atlassian, Rigado, Dispersive Networks, SigFox, and many others that help deliver at scale a full Connected Solution.
"Clovity's "breakthrough" IoT platform, CSensorNet, enables AI computing and real-time data collection at the edge, with a holistic IoT platform that covers all components from connectivity and analysis to user experience. Their software is geared for the Industrial, Transportation, Retail, Smart Cities and Healthcare verticals," said James Johnson, managing director at IoT Breakthrough. "Clovity's powerful software platform and strong partnerships have propelled them to the forefront of the Enterprise and Industrial IoT markets, and we are excited to see them continue on their impressive grow trajectory. We extend our sincere congratulations to the entire Clovity team on their well-deserved 2020 IoT Breakthrough Award."
The mission of the IoT Breakthrough Awards program is to recognize the innovators, leaders and visionaries from around the globe in a range of IoT categories, including Industrial and Enterprise IoT, Smart City technology, Connected Home and Home Automation, Connected Car, and many more.
"We are coming off of an incredible year of growth, most recently participating in Microsoft's IoT Solution Accelerator program to integrate into the Azure IoT ecosystem as a Microsoft IoT as bundled solution, releasing an IoT-as-a-Service model, rolling out major hardware/software bundles, and announcing the newest release of our CSensorNet platform," said Joe Gilman Vice President, Client Management. "Clovity's end-to-end IoT solutions leveraging the Microsoft Azure ecosystem is an incredibly exciting development and we're currently working with the Microsoft team on various Smart Cities initiatives across the United States. We have certainly achieved a "breakthrough" year and we are thrilled to receive this 2020 IoT Breakthrough Award in recognition of that success."
Clovity is a Microsoft Partner, Atlassian Solution Partner & CIO Magazine Top Growth IoT Platform & Solution Provider, enabling cities, global Fortune 500, and high growth mid-market technology enterprises with fully integrated connected device-to-cloud-to-enterprise integration solutions with the goal of simplifying the development of IoT, Data, Cloud & Digital platforms.
For the full list of awards by category from IoT Breakthrough 2020, please go to https://iotbreakthrough.com/2020-winners/.
####
About IoT Breakthrough
Part of Tech Breakthrough, a leading market intelligence and recognition platform for global technology innovation and leadership, the IoT Breakthrough Awards program is devoted to honoring excellence in Internet-of-Things technologies, services, companies and products. The IoT Breakthrough Awards program provides a forum for public recognition around the achievements of IoT companies and products in categories including Connected Home and Home Automation, Connected Car, Industrial IoT (IIoT) and Smart City, Consumer IoT and more. For more information visit IoTBreakthrough.com.
About Clovity
Clovity is a privately held professional services and IoT Platform company based in the heart of Silicon Valley, California. We work to develop smart products, connected solutions and operate as a Service. Clovity is rapidly growing by partnering with many global hardware, software and sensor manufacturers to fully integrate our software into their products and/or software.
Clovity specializes in 4 practice areas - IoT, Cloud, Data and Digital powered by our platform CSensorNet and it brings together "connected things" and data computing closer to the edge, enabling interactions with connected devices to happen much faster. Clovity's IoT software is geared for the Industrial, Transportation, Retail, Smart Cities, Telecom, Agriculture, Financial Services as well as Healthcare verticals. We have pre-packaged HW/SW bundles for vertical industry focused use cases such as Smart E-Houses, Smart Industrial, Smart Building, Smart Asset etc. which combines our software platform and leading HW providers OOB.
We were named 2018 and 2019 Top Growth IoT Provider in the US by CIO Review magazine as well as 2020 IoT Breakthrough Award for Emerging Company of the Year for the Enterprise Market. Clovity's platform and global partnerships enable millions of interactions with thousands of connected devices daily, while serving up massive amounts of actionable data in milliseconds for numerous types of vertical use cases.
Clovity is a fully staffed software and services organization, with operations in major US cities and abroad in New Delhi India where our Deliver Center is located. We are also Diversified and Inclusive certified, an approved Government Services Provider, and are a Minority owned Business.
Follow us at:
LinkedIn: https://www.linkedin.com/company/clovity/
Twitter: https://twitter.com/ClovityInc