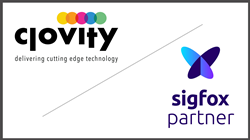 "It is crucial that the right collaboration between companies like Clovity and Sigfox takes place in order to deliver the next generation of asset monitoring solutions to drive customer ROI through IoT innovation."
SAN FRANCISCO and BETHUNE, France (PRWEB) July 17, 2019
Clovity, creator of the proprietary CSensorNet IoT platform and leading IoT, Cloud, Big Data, Digital and Mobile solutions company, has partnered with the world's leading IoT service provider and first global 0G network operator, Sigfox, to connect specific sensor solutions. With Clovity's wide ranging focus on delivering enterprise-grade IoT and Digital Transformation to clients in the Smart City, Healthcare, Retail, Banking, Finance and Technology Product industry verticals, partnering with an industry leader like Sigfox is crucial in delivering the perfect connected device solution for a wide range of clients and use cases.
The complex IoT solutions Clovity creates for cities and enterprises often consist of a mix of high output and low output devices. By using the right connectivity partner that can handle low band use case requirements effectively, Sigfox helps Clovity to connect these cost effective low-frequency band IoT sensors necessary for many solutions. Clovity's proprietary CSensorNet effectively pulls, transmits, analyzes, and visualizes Sigfox and other frequency band's data together on one platform.
Sigfox also provides comprehensive connectivity over a large areas compatible with Bluetooth, GPS, 2G/3G/4G and Wifi making them perfect for logistics, asset management and other large area coverage solutions. By combining other IoT device networks of varying edge compute levels combined with Sigfox's tracking capabilities, the depth of the data can be drastically improved.
Chief Strategy Officer Chris Medina said, "Many IoT use cases we are solving require a multitude of sensors and connectivity bands to build a holistic data profile for every solution." Chris Medina continues, "Our partnership with Sigfox is crucial to providing the right hardware and connectivity for high-volume or dispersed assets that need to maintain connectivity and be cost effective to deploy. We look forward to working with them closely to fulfill our client's needs when it comes to low frequency, long range connectivity."
"Sigfox is very excited to be partnering with Smart City and enterprise IoT professional services company, Clovity, to deliver complex solutions including Sigfox's ever expanding network and use cases", said Richard Han Phd., Director of IoT Business Development. He continues, "It is crucial that the right collaboration between companies like Clovity and Sigfox takes place in order to deliver the next generation of asset monitoring solutions to drive customer ROI through IoT innovation."
Clovity simplifies the development, deployment, management & operations of IoT solutions from edge to experience. From IoT device integration to data security they are helping "smart things" manage a connected world. Clovity brings a framework solution that enables IoT business intent through its core accelerator called CSensorNet. The technical capabilities and the Agile delivery that accompanies it enables speed to market and secure end-to-end data delivery. This interoperability reduces cost, improves user satisfaction, and creates new revenue streams.
Sigfox is an affordable, reliable, and low-power solution to connect sensors and devices. Having one of the largest coverage areas for LowBand connectivity in Europe, Sigfox is present in 51 of the top U.S. metros and covers 30 percent of the U.S. population and a total of 60+ countries and regions covering 1 billion people globally. Sigfox is quickly becoming a go to choice for companies looking to track mass amounts of mobile assets without major sensor upkeep. By providing a wide area low frequency band, simplistic devices can ping and communicate for years with extremely low energy consumption allowing years of battery life. There is no need for configuration, connection request or signaling. The devices are up and running within minutes.
For more information about Clovity and how it utilizes Sigfox the network in its solutions, visit: http://www.clovity.com. For media inquiries, contact Natalie at marketing(at)clovity(dot)com or 925-264-6360.
About Clovity
Powering Enterprise Digital Transformation with IoT
Thinking "IoT | Edge | Data | Cloud | Digital | Smart Cities" Think Clovity
Clovity is a Microsoft Solution Partner, Atlassian Solution Partner & CIO Magazine Top Growth IoT Platform & Solution Provider, enabling global Fortune 500 & high growth mid-market technology enterprises with fully integrated connected device-to-cloud-to-enterprise integration solutions with the outcome to simplify building your Internet of Things (IoT), Data, Cloud & Digital platforms powered by IoT Platform – CSensorNet.
If you are interested in learning more about IoT or any of the other technologies, please visit us at http://www.clovity.com.
Follow us at:
LinkedIn: https://www.linkedin.com/company/clovity/
Twitter: https://twitter.com/ClovityInc