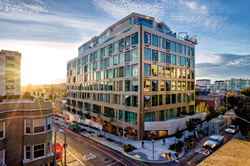 To date, over 5,300 EB-5 investors have placed their trust in CMB EB-5 partnerships, of which 1,334 CMB EB-5 investors have chose Hillwood developed projects. These investors span 26 separate CMB EB-5 partnerships, of which 24 EB-5 partnerships have already received I-526 petition approvals.
SAN FRANCISCO (PRWEB) June 21, 2019
Following more than two years of construction, the new downtown San Francisco dental school was completed in November 2014 and commenced operations. The seven-story building houses UOP's renowned dental school (http://www.dental.pacific.edu), dental clinics for the public, and graduate programs in the fields of audiology, music therapy, data analytics, and food studies.
Now known as the Pacific, the former Webster Street dental school facility was then artfully redeveloped by the Hillwood/Trumark partnership into a LEED certified, luxury townhome development in one of San Francisco's most desirable neighborhoods, Pacific Heights. Following its completion, all 76 of its units were sold, generating over $300,000,000 in total sales revenue. According to Redfin, in 2017 the sale of one of the building's penthouse units set a new City of San Francisco price record for the most expensive condo sold by square foot. (https://www.mansionglobal.com/articles/san-francisco-penthouse-sale-breaks-price-record-63239). The Pacific has won numerous awards for design, including the 2017 Award of Merit, Design Award by the Society of American Registered Architects National, the 2018 Citation Award by AIA San Francisco, and the 2019 SARA New York Design Award by Society of American Registered Architects New York. (https://handelarchitects.com/project/the-pacific)
Collectively, the Group 18 Partnership created 1,617 indirect and induced jobs (based on actual project expenditures) from construction alone, or 12.4 jobs per investor, meeting and exceeding the job creation requirement of each Group 18 investor. Most importantly, investors in Group 18 have already begun receiving approvals of their I-829 petitions.
Group 18 was CMB's fourth EB-5 partnership featuring a Hillwood affiliate serving as borrower. Hillwood has now repaid each of these first four partnerships in full. CMB Group VIII, CMB Group XII, and CMB Group XIII have also received approvals at both the I-526 and I-829 stage and have begun returning capital to eligible investors.
Later this year Hillwood affiliates' plan to repay two additional CMB EB-5 partnerships: CMB Group XIV, and CMB Group 20. Group XIV involved the construction of the Orchard Park Residences in the Berryessa neighborhood of San Jose, California and Group 20 involved the construction of two separate industrial/logistics facilities in Dallas, Texas. Additionally, CMB's economic impact analyses have demonstrated that each project has created the jobs necessary to satisfy the immigration goals of each EB-5 investor within these CMB partnerships.
To date, 1,334 EB-5 investors have placed their trust in CMB EB-5 partnerships serving as a lender to Hillwood projects. These investors span 26 separate CMB EB-5 partnerships, of which 24 have received I-526 petition approvals. The 26th partnership, CMB Group 61, also involving a joint venture development between Hillwood and Trumark, is currently open and available for subscription.
Hillwood's expertise and consistency makes for a one of kind lender/borrower relationship. We are grateful for these past successes and optimistically look forward to celebrating many future successes to come.
Lastly, we would like to congratulate all who have placed their trust in the Group 18 Partnership. Your efforts have allowed for the creation of much needed new American jobs and has stimulated the U.S. economy through your EB-5 investment.
More about CMB Regional Centers:
CMB Regional Centers is one of the oldest active regional centers in the EB-5 industry with over twenty years of experience. CMB has over 5,300 investors from 98 countries, representing over $2.9 billion in EB-5 investment funds within 69 partnerships. To date, CMB's investors have seen over 4,700 I-526 approvals, over 1,100 I-829 approvals, repayment of nearly $1 billion in EB-5 investment capital from CMB borrowers, and a return of capital (or in the process of returning capital) to investors in 20 CMB EB-5 partnerships.
CMB is recognized as a pioneer in the EB-5 industry. CMB was the first regional center to rely solely upon indirect and induced job creation, and was the first to introduce the loan model. Additionally, in 2014 CMB commissioned independent third-party audits of all CMB EB-5 partnership financials according to GAAP and audits of CMB's track record (I-526 and I-829 approvals). CMB has commissioned the same audits in each year since, and will continue to do so going forward, thereby setting a standard in transparency for the EB-5 industry. Over the years, the EB-5 industry has continued to evolve and many of CMB's methodologies that it pioneered have become widely used throughout the industry.
CMB News Articles - Click Here