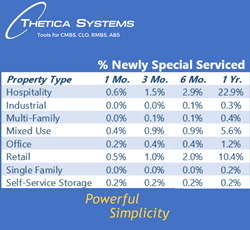 We make it easy for our clients to extract the full value from the Intex data they license.
CRESSKILL, N.J. (PRWEB) April 26, 2021
Thetica Systems, long-time provider of custom pricing and analytics for structured finance, announces development of a new method of access to its proprietary infrastructure. Clients can now choose an Excel interface for CMBS, in addition to the web portal launched in 2020 or design of a fully custom interface to client specifications.
"Our goal is to provide the maximum in flexibility for our clients," said CEO and Founder Ariel Yankilevich. "As an experienced Intex partner, we make it easy for our mutual clients to extract the full value from their licensed data. Whatever they imagine, we can help them to quickly implement."
This additional functionality gives users the convenience of Excel in a flexible interface for the robust Thetica infrastructure that stores, processes, and delivers their licensed data, calculations, and scenarios. CMBS traders and portfolio managers can more easily visualize critical changes using their licensed Intex data integrated into Thetica analytics tools.
"The Excel interface gives users a friendly and familiar way to work, with a simplified installation and security process," added John Schaffner, Head of Production. "We are beginning with database query access and plan to launch capability to run cashflows from the Excel interface in the third quarter of the year."
The company's pricing and analytics platform can include a range of bond types in the same system. In addition to increasing efficiency, this unique benefit may reduce overall expense for CMBS, CLO, RMBS, and ABS portfolios. Clients are able to quickly design and implement individualized reports and obtain real-time alerts on key changes such as special servicing, delinquency, new appraisals, and so on.
About Thetica Systems
Thetica Systems provides powerful, flexible infrastructure for bond pricing and analytics systems. An experienced Intex partner, the company can implement any business logic, models, or client-licensed data from any source for CMBS, CLO, RMBS/CRT, and ABS portfolios. Clients include investment banks, hedge funds, accounting firms, professional services providers, asset management, brokers, dealers, and others that invest in or monitor structured finance securities. Users range from traders and trading desks, project managers, research and product controllers to risk managers, regulatory reporting, and IT.
The word "Thetica" was created from the Greek letter "theta," representing thought or reason, and "etica," representing ethics. Thought, reason and ethics are essential elements of any successful business and commitment to this concept is embedded in the company's name. For more information visit the company website and LinkedIn page.