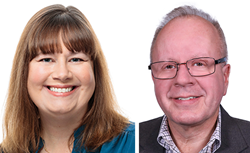 "We're investing in our highest level of talent in support of client business, elevating our game in every aspect," said Chief Operating Officer Eugene Lee.
KING OF PRUSSIA, Pa. (PRWEB) January 09, 2020
CMI/Compas, media strategy, planning, innovation and buying for the nation's top healthcare companies and part of WPP (NYSE:WPP), has bolstered its client service offerings with the hire of several executives as part of its continued growth, including senior leadership in the company's West Coast and Midwest office locations.
Irene Coyne and Richard Schneider join as EVP, Group Client Directors. They will report to Chief Operating Officer Eugene Lee and serve on the executive leadership team.
"We're investing in our highest level of talent in support of client business, elevating our game in every aspect," said Lee. "The tenure, level of experience and qualifications of our recent hires elevates our abilities with a direct benefit to our clients and our staff development."
As EVP, Group Client Director, both Coyne and Schneider will be responsible for client satisfaction and client business leadership overall for a number of the organization's key accounts.
Coyne is an experienced and accomplished health care marketing leader with a passion for driving brand impact, agency growth, client satisfaction and team morale through inspirational and strategic leadership, innovation, and focus on solving the client's and agency's biggest business challenges. She has 23 years of strategic marketing expertise that spans health care, CPG, publishing, retail, telecommunications, and energy services. She has represented over 45 pharma brands, including 15 launch brands, bringing deep expertise across over a dozen therapeutic categories. She was most recently SVP, Media at Publicis Health Media, and has also held positions at AstraZeneca, Digitas Health, Cadient Group and Razorfish Health. She is based in the King of Prussia, PA office.
Schneider is dedicated to the integration of consumer and HCP messaging, breaking down silos for a more impactful result. He has 30 years of experience elevating the visibility, profitability, and performance of diverse brands through strategic analysis, planning, and design of leading-edge, customer-focused media, marketing and advertising initiatives. He was most recently with Starcom, and has also held positions at WPP agencies Grey Worldwide and Mindshare. Schneider will continue as an adjunct professor of Integrated Marketing at NYU, a role he has held since 2014. He is based in the New York office.
In addition, several executive-level hires throughout 2019 have contributed to the strength and growth of CMI/Compas:

Rob Enos, SVP, Media, Chicago.
Murray Henry joins as SVP, Strategy, New York.
Nicole Brandt joins as VP, Media, King of Prussia, PA.
Michael Eisenstein, VP, Business Insights, New York.
Courtney Kasey, VP, Media, Costa Mesa, CA.
Tim Noone VP, Media, New York.
Martha Sivesind, VP, Media, Chicago.
George Tarnopolsky, VP, Programmatic, New York.
Roshan Thomas, VP, Finance & Risk Management, New York.
The hires are part of an overall strategy to continue the strong growth and innovation of CMI/Compas and has included the introduction of a new approach to client service and management that ensures the happiness and growth of clients as well as the individual employees of CMI/Compas.
CMI/Compas has brought many firsts to healthcare marketing and is this year celebrating its 30th anniversary as the leading healthcare-focused media buying and planning resource to the world's game changers in pharma and life sciences. The company was recently recognized by AdWeek Magazine as one of the world's fastest growing companies. Those looking to join the CMI/Compas team can visit the company's career page for more information and a link to apply: http://www.cmimedia.com/career
About CMI/Compas
Well-known as a media planning and buying organization for healthcare clients, sister agencies CMI Media, a WPP company (NYSE: WPP, http://www.wpp.com), and Compas, Inc. together form the indispensable strategic marketing partner to the world's game-changers in health, offering guidance at every level of marketing. CMI/Compas focuses on core service offerings of audience strategy and non-personal promotion strategy, planning, buying, and customer insights and performance management/precision analytics. With continuous investment in the things that really matter, CMI and Compas have achieved unsurpassed tenure of healthcare marketing talent, clients and suppliers. CMI/Compas has eight offices across the US. The family of companies is actively recruiting for healthcare marketing jobs via http://www.cmimedia.com/career.