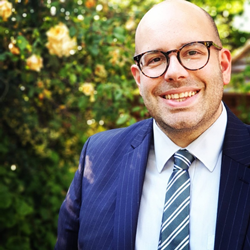 "We're ready to bring our data-driven and disruptive approach to Europe and beyond," said Dr. Susan Dorfman, President and CEO.
LONDON (PRWEB) February 06, 2023
Healthcare agency CMI Media Group, a WPP company (NYSE: WPP), has launched its global omnichannel capability, expanding its presence globally with a regional hub in London. Following over 30 years of steady exponential growth, including being named one of the fastest growing agencies in the world by Adweek three times in the past 4 years, the company has opened its first regional headquarters in London, with additional offices to come. The global expansion marks CMI Media Group's continued evolution beyond media to bring healthcare clients omnichannel orchestration, reaching and engaging healthcare audiences when, where and how they prefer.
Leading the London practice will be Matt Durham as Director, Global Media. He brings over a decade of international pharmaceutical and healthcare media planning and strategy experience. Durham has led media campaigns across all major therapeutic categories and has been associated with most of the top 10 pharmaceutical companies.
Recent research focusing on European markets shows a disconnect between what healthcare professionals want and what healthcare brands are currently providing. For example, HCPs are looking for better access to digital learning tools, podcasts, and other resources, while pharma companies polled stated that these areas were lower priority. CMI Media Group will apply its expertise in omnichannel orchestration and data-centric strategic planning, with extensive experience in HCP audiences, to help global clients reach their goals.
CMI Media Group has been working with agency partners to offer global services to multiple healthcare clients and will continue this momentum with its newly established global presence.
"In this continuously-changing market, healthcare professionals need better support from healthcare brands now more than ever. We are uniquely positioned to help our clients deliver on that need, thanks to our long-standing experience in servicing our clients globally, paired with our over 30 years of dedicated strategic healthcare marketing," said Justin Freid, Chief Media & Innovation Officer. "We have been working with clients globally for many years and collaborating with international partners to deliver what our clients need. We're now ready to officially bring that experience and expertise to all of our clients."
To mark this milestone, CMI Media Group is releasing new research in collaboration with partner Medscape, concentrating on how physicians throughout Europe engage with personal and non-personal promotion. "What European Prescribers Want and Need from Life Sciences Companies" will show important insights into how healthcare brands should be prioritizing their advertising spend. This material captures how doctors are currently utilizing media, including medical journals and websites, reviews the best ways to share new developments, and analyzes how often they connect with sales reps. Healthcare brand clients can request a copy of this research at this link. CMI Media Group will host a live webinar along with Medscape to highlight key findings from the research on media consumption preferences and behaviors among European HCPs. Details for this webinar are available at this link.
"We're known in the industry as innovators who build from scratch when a solution doesn't already exist, and we have seen a deep need for our expertise on the ground in markets beyond US," said Susan Dorfman, President and CEO. "We're ready to bring our data-driven and disruptive approach to Europe and beyond."
CMI Media Group is WPP's leading healthcare media specialist. The company has brought many firsts to healthcare marketing as the premier healthcare-focused media buying and planning resource to the world's game changers in pharma and life sciences. The company recently celebrated the 10th anniversary of its industry-changing platform, Empower™. It is the industry's first and only people-first precision and performance data platform that manages the complete marketing process. From insights to planning and media activation to optimization, Empower™ leverages consistent healthcare audience data. CMI Media Group's omnidynamic approach to media earned PM360's "Most Innovative Company" recognition in December 2022.
Talented professionals looking to join CMI Media Group in the UK can contact Gina Santacaterina, Senior Talent Acquisition Partner, at gsanta@cmimediagroup.com.
About CMI Media Group
CMI Media Group, a WPP company (NYSE: WPP, http://www.wpp.com), is a full-service media agency focused solely on health, wellness, and pharmaceutical marketing. CMI Media Group's core offerings include Audience Strategy, Planning, Development, and Insights; Data and Analytics; Buying and Investment; and Direct Response and Customer Experience. As the leading media resource for the world's top healthcare companies, CMI Media Group brings together leading technology, data, and talent to deliver seamless capabilities for clients. CMI Media Group has been recognized as a leader in DE&I, talent retention and employee development as well as one of the industry's best places to work. To apply for a position within our teams visit https://cmimediagroup.com/careers/