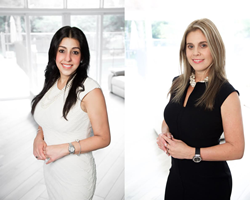 This is our second home; where we went to law school, worked and clerked for judges. This community earned and deserves our services.
Orlando, FL (PRWEB) February 01, 2017
Leslie Cimadevilla, Esquire, and Melissa Anne Murray, Esquire, founding members of CMO Law Group, LLC, recently opened a new office in the Orlando area, 1101 Douglas Avenue, Suite B, Altamonte Springs, FL 32714. "This is our second home; where we went to law school, worked and clerked for judges. This community earned and deserves our services," said Cimadevilla.
The new Orlando office is the third for CMO Law Group, in addition to its existing offices in Fort Lauderdale and Delray Beach. CMO Law Group is now physically situated in Broward, Palm Beach and Orange/Seminole counties, with representation and coverage throughout the state.
Attorneys at CMO Law Group are experienced advocates and counselors who handle residential and commercial real estate transactions, title defects and disputes, together with their busy family law and business practice. In addition to its new office, CMO Law Group recently implemented a municipal Lien Search division.
"Lien searches identify all municipal issues, such as utilities, code enforcement violations, open permits, expired permits and liens," noted Murray. "We need to examine this to clear title and ensure nothing is going to be recorded during the gap prior to conveying title at closing. Although a contractual issue and not a title issue, it can become one quickly once the violation is recorded."
CMO Law Group also handles contested and collaborative family law matters; business transactions, disputes and closings; foreclosure and loss mitigation programs; bankruptcy; collections; and wills. The ladies of CMO Law Group, LLC handle all aspects of family law including dissolution, child custody, support and timesharing, alimony, alimony unconnected with dissolution, adoptions, prenuptial agreements, paternity actions, family-based immigration petitions and adoptions. They are also advocates of the LGBT community and offer translation services in every language for domestication of foreign family decrees.
About Leslie Cimadevilla and Melissa Anne Murray, CMO Law Group, LLC
Leslie Cimadevilla handles both residential and commercial simple and complex real estate matters together with marital and family cases, all aspects of business law, including business consulting, closings and litigation. Melissa Anne Murray also handles family and marital law including adoptions, wills, powers of attorney, living wills, health care surrogates and family planning, as well as all aspects of real estate closings. For more information, please call (954) 533-5190 or visit http://www.cmolawgroup.com. The firm has offices in Fort Lauderdale, Delray Beach, and Orlando, FL.
About the NALA™
The NALA offers small and medium-sized businesses effective ways to reach customers through new media. As a single-agency source, the NALA helps businesses flourish in their local community. The NALA's mission is to promote a business' relevant and newsworthy events and achievements, both online and through traditional media. For media inquiries, please call 805.650.6121, ext. 361.