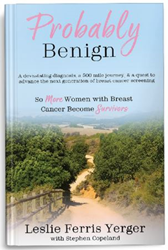 CARLSBAD, Calif. (PRWEB) October 01, 2020
A recent Quintessential Barrington Magazine article describes the story of Leslie Ferris Yerger, who was diagnosed with Stage 4 breast cancer just two months after having a clear mammogram. Her dense breast tissue made her tumor invisible on a mammogram. Bewildered as to how such extensive cancer had escaped detection, Yerger set out to learn as much as she could. She found that although regular screening mammograms are proven to save lives, they are unable to catch over half of all tumors in breasts that are classified as "dense".
The article states that when Yerger learned about Molecular Breast Imaging (MBI), a technology developed by Mayo Clinic doctors and scientists, she wondered why she had never heard of this technology developed specifically to find hidden tumors in dense breasts. Since then she has raised over $100,000 for research at the Mayo Clinic, and has become an author and a speaker advocating that women with dense breast tissue get advanced supplemental screening, so that her story does not become any other woman's story.
Read full story at: https://www.quintessentialbarrington.com/so20-the-path-forward/
CMR Molecular Imaging manufactures and commercializes the LumaGEM ® MBI system, with dual-head digital direct conversion gamma imaging, that provides high resolution images with less than 2 mm resolution, using a low dose of Tc99 Sestamibi radiotracer. With over 90 percent sensitivity and specificity, the LumaGEM MBI® has been shown to significantly improve cancer detection in women with dense breast tissue with fewer false positives relative to anatomical imaging technologies, such as MRI and whole breast ultrasound.
Researchers have found and published data demonstrating that in women with dense breast tissue, MBI detects an additional 8.8 cancers per 1000 women screened providing an incremental cancer detection rate (ICDR) of 250% over mammography. Rhodes et al. AJR 2015
About CMR Molecular Imaging: CMR Molecular Imaging is a unit of CMR Naviscan Corporation, a leader in organ-specific molecular imaging and part of the Compañia Mexicana de Radiologia CGR, S.A. de C.V. (CMR), a global developer and manufacturer of high quality diagnostic imaging equipment and healthcare information systems, including DICOM-compliant imaging software. CMR Naviscan, headquartered in Carlsbad, California, develops and manufactures molecular imaging systems, including the Solo II™ High Resolution Breast PET Imaging (BPI) scanner, the Stereo Navigator® Biopsy Guidance Accessory, and the LumaGEM® Molecular Breast Imaging (MBI) system. CMR Naviscan is US FDA registered and ISO 13485:2012 certified.
For more information visit http://www.cmr-naviscan.com