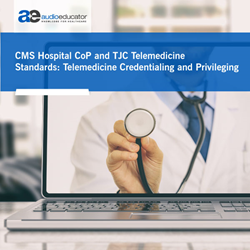 Steer clear of deficiencies by including the right provisions in telemedicine contracts.
DURHAM, N.C. (PRWEB) September 20, 2018
AudioEducator, a division of audio conference and corporate education leader ProEdTech, will host the live, 120-minute webinar titled "CMS Hospital CoP and TJC Telemedicine Standards: Telemedicine Credentialing and Privileging" with hospital compliance consultant Sue Dill Calloway on Tuesday, October 2, 2018 at 1:00 PM ET.
More than 70 percent of providers are now using telemedicine services, according to reports from HIMSS Analytics. While this is good news for both patients and providers (in terms of quicker access to care, reduced hospital admissions, and greater provider choice), this evolution comes with compliance challenges. Quarterly reports from the Centers for Medicare & Medicaid Services (CMS) highlight serious deficiencies in telemedicine contracts. Are hospitals falling for common telemedicine contract compliance pitfalls, too?
In this webinar, hospital compliance consultant Sue Dill Calloway explains how to steer clear of deficiencies by including the right provisions in telemedicine contracts. Attendees will learn which regulation and interpretive guidelines apply to hospitals accredited by The Joint Commission (TJC)—and how to handle recent changes TJC made to crosswalk with CMS standards. Be it a large, small, or rural hospital—or a critical access hospital (CAH)—attendees will get a thorough understanding of how to draft written agreements, manage credentialing by proxy, and properly enact the credentialing and privileging process for physicians and practitioners. They will also learn about the differences between distant-site hospitals and distant-site telemedicine entities (DSH vs. DSTE).
After attending this webinar, attendees will be better prepared to enforce key practices in ensuring hospital compliance with conditions of participation (CoPs). They will understand the separate and critical regulatory compliance responsibilities of the board, the medical staff and the hospital. Calloway will cover peer review issues, adverse events and notifications, periodic appraisals, changes to CoP tag numbers, and how to handle complaints received about the distant site physician. Equipped with all this information, attendees can look forward to being on CMS's "good contracts" list!
This in-depth, 120-minute webinar will provide insights to chief medical officers, nursing officers and medical staff leaders on:

The federal regulations and interpretive guidelines that make up the hospital CoPs on telemedicine credentialing
How distant site telemedicine entities (DTSE) are defined
DSH vs. DSTE: the differences between distant-site hospitals (DSH) and distant-site telemedicine entities (DSTE)
What to include in written agreements—and when they're required
The impacts of the Emergency Medical Treatment and Labor Act (EMTALA) on telemedicine
How hospitals can use proxy credentialing with Medicare-certified hospitals or other telemedicine entities (DTSEs)
The proper protocol if a patient's native language is not English
The responsibilities of the distant-site hospital to be considered compliant with credentialing requirements
How to comply with TJC's standards on telemedicine in the leadership chapter
For more information and to register, visit: https://www.audioeducator.com/hospitals-and-health-systems/hospital-telemedicine-contract-compliance.html
Get $40 off on our conferences and webinars. Use Code PRWEB40 on checkout (applicable for all purchases).
About ProEdTech
ProEdTech is a leading source of knowledge and training for professionals in over 15 industries, serving individuals, businesses and their employees around the globe. It offers webinars, online conferences, seminars, boot camps, books, DVDs, white papers, industry reports and other learning tools from industry experts and insiders who provide a fresh perspective on key issues, trends and regulations in order to simplify governance, risk and compliance (GRC) for enterprises and industry professionals. ProEdTech's AudioEducator webinars offer updates, regulatory knowledge and information on the latest news in various medical specialties, as well as coding and billing updates, and analysis of regulations that affect ambulatory surgical centers, home health, long term care and hospice facilities, hospitals and healthcare systems, health insurers and physician practices. ProEdTech's Eli Financial platform offers tax and banking professionals, focusing on providing high-quality online training products customized for U.S. lenders and tax practitioners that include the latest updates from the IRS, CFPB and other regulatory authorities. Webinars are also offered through AudioSolutionz in the technology, human resources, construction and housing, ICT and telecom, manufacturing, consumer packaged goods and retail, safety and security, transportation, energy and environment, education, trade, and chemicals industries. ProEdTech regularly provides professionals the opportunity to get answers to their most complex questions directly from experts, without having to attend costly live conferences. To learn more, visit: http://www.proedtech.com.