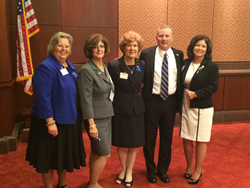 Little Rock, AR (PRWEB) September 12, 2014
On Wednesday, September 10, the Case Management Society of America (CMSA) and its National Board and Public Policy Committee united on Capitol Hill with nearly 60 members of its member community of case managers to address the value that professional certified case managers bring to improving care coordination and transitions of care with patients and their family caregivers.
Patricia Noonan, Chair of CMSA's Public Policy Committee, said it best: "We are committed to ensuring that members of Congress know who we are and the value we bring, not only in DC but also at the state level where our case managers practice. Each year it is exciting to see the passion and commitment case managers bring as they share their stories."
During 65 Hill appointments, case managers met with their individual representative from the House and Senate and communicated these legislative issues to advocate for:

Increased use of qualified professional case managers
Safer transitions of care for patients
Advanced training and competency for case management professionals
Aligned financial and performance measures in support of the collaborative practice of case management
The Society's leadership had the opportunity to engage with members of the Health Resources and Services Administration (HRSA) and Policy Directors at the Executive Office of the President, Office of Management and Budget to share the same message.
"Our continued presence in DC encourages the development of provisions supporting case management, care management and care coordination, while continuing to demonstrate the value of case management by clarifying the significance of case managers in improving care coordination workflow and processes. Bringing this message to Washington and safeguarding the practice of case management is the most important role we can take to support our members," stated Kathleen Fraser, CMSA President.
CMSA's virtual community also participated – Hill Day-related updates on Twitter, Facebook and LinkedIn garnered more than 2,700 views and initiated over 150 actions including shares and retweets. It's not too late to unite your voice with your colleagues – send a letter to your representative and share a story of how professional case managers improve care for their patients and family caregivers! Take action at cmsa.org/policymakers.
About the Case Management Society of America (CMSA)
Established in 1990, the Case Management Society of America is the leading non-profit association dedicated to the support and development of the profession of case management. CMSA serves more than 11,000 members, 20,000 subscribers, and 75 chapters through educational forums, networking opportunities, legislative advocacy and establishing standards to advance the profession. For more information, visit http://www.cmsa.org or follow CMSA on Twitter @CMSANational.