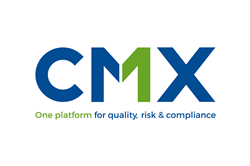 "The ROI is there. We are seeing empirically that this is having a direct impact on product quality, consistency, and safety, which drives the bottom line and increases profitability for our drive-ins." -- David Abney, Vice President of Quality Assurance, Sonic Drive-In®
SAN DIEGO (PRWEB) January 29, 2020
CMX, a leading provider of Enterprise Quality Management Software (EQMS) for supply chain management and operational execution, announced today that it has enhanced its CMX1 EQMS platform suite with a new module that streamlines and automates the process of performing inspections to ensure consistency, quality and compliance.
The new module has already been successfully adopted by SONIC Drive-In®, the largest drive-in restaurant chain in the U.S. with more than 3,600 locations nationwide. CMX1 enables customers like Sonic Drive-in® to quickly create simple to complex product inspection forms for verifying compliance with a product's specification. The module works in conjunction with CMX1's Product Lifecycle Management (PLM) module to automatically pull in finished product standards and test methods from a product specification or can be used independently. New customized evaluation forms can be developed, and both internal teams and assigned suppliers and distributors are able to leverage the module to perform inspections and product evaluations.
"Managing product quality, safety and food costs on a macro level requires both a product testing and product evaluation program that continually inspects and monitors the riskiest and costliest items in our expansive menu," said David Abney, Vice President of Quality Assurance at Sonic Drive-In®. "CMX1 gives us the tools to do this easily and efficiently. The integrated reporting, analytics, and Corrective Action Preventative Action workflows of CMX1 gives us the insights on trends by product and supplier, and the closed-loop processing to ensure issues are being proactively addressed."
Abney said that SONIC's Quality Assurance team was able to begin utilizing the tool within minutes. The ability to create their own forms dynamically and quickly is an especially helpful addition to the company's toolset for ensuring product consistency, quality and safety.
"With this new efficiency, CMX1 has enabled our team to significantly increase the number of product evaluations we perform on the products we source during production runs," said Abney. "The ROI is there. We are seeing empirically that this is having a direct impact on product quality, consistency, and safety, which drives the bottom line and increases profitability for our drive-ins."
CMX CEO Mitch Porche said the module is a timely complement to the lineup of solutions offered by the CMX1 platform.
"Our product inspection module is the latest example of how CMX is working to empower our customers with more capabilities to protect brand value and reputation as well as customer safety at scale via the CMX1 platform," he said. "We're pleased to see that SONIC Drive-In®, as an early adopter of the module, has so quickly realized success as CMX1 helps drive their business goals of controlling food costs and ensuring consistent quality."
The module includes a visual designer for creating forms and a natural language rule builder for defining KPIs, pass/fail logic, and min, max, target values for testing at the item, bag, case or pallet level. Results are published for analytics, reporting, dashboarding and visualization for providing trends and insights by supplier, product, product category and more. Failed tests can result in the issuance of Supplier Corrective Action Requests (SCARs) to ensure issues are being addressed and continuous improvement.
About CMX
Leading brands including Burger King, Taco Bell, Sonic Drive-In, RaceTrac, and Hasbro trust CMX's cloud-based Enterprise Quality Management Software (EQMS) CMX1 to help them achieve and maintain Operational and Quality Excellence. For over a decade, CMX has led the market with the most comprehensive, user-friendly, cloud-based EQMS platform for food and consumer brands. It's the only enterprise solution to effectively combine supply chain quality and operational excellence into a single, fully configurable operating platform.
About CMX1
CMX1, a single platform for quality, risk and compliance, helps organizations of all sizes gain control and transparency over their entire supply chain and partner network, ensure the quality and compliance of products and services, and drive location compliance and consistency. CMX1's flexibility allows companies to adopt the entire platform at once, or start small, adding more modules as quality programs mature and expand.
To learn more about CMX1, and how you can leverage it to achieve Quality and Operational Excellence, please visit the CMX website or call 1-858-866-8888
About SONIC Drive-In
SONIC, founded in 1953, is the largest drive-in restaurant brand in the United States with more than 3,600 restaurants. SONIC is part of the Inspire Brands family of restaurants. For more information, visit SONICDriveIn.com and InspireBrands.com.