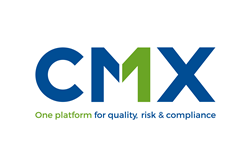 Ensuring health and safety across our 500 locations is our top priority. ActivityStudio gives us real-time visibility into the data we need daily to know our COVID-19 operational guidelines are being followed. -- Isaac Morton, Vice President, Information Technology, Sizzling Platter
SAN DIEGO (PRWEB) June 10, 2020
CMX, a leading provider of Enterprise Quality Management Solutions (EQMS) for supply chain management and operational execution, announced today that Sizzling Platter, a Utah-based restaurant management company, has gone live with CMX ActivityStudio™. Sizzling Platter operates more than 500 Sizzler, Red Robin, Little Caesars, Dunkin Donuts, and Wingstop restaurants in 15 U.S. states and Mexico.
As the franchisor reopens its restaurant locations, it is leveraging ActivityStudio to perform employee pre-shift wellness checks and to ensure health and sanitation routines are being executed. The programs are based on Centers for Disease Control (CDC) guidelines for reopening and maintaining healthy business operations, while reducing the risk of COVID-19 spread for both employees and customers.
"At this very critical time in the restaurant industry, ensuring health and safety across our 500 locations is our top priority," said Isaac Morton, Vice President, Information Technology, Sizzling Platter. "ActivityStudio gives us real-time visibility into the data we need daily to know our COVID-19 operational guidelines are being followed. This allows us to move forward with the confidence that we are following the latest CDC guidelines and are in full compliance with state and local laws."
ActivityStudio gives organizations of all sizes the capability to digitally transform their operating procedures and protocols to create a systematic approach to achieving operational excellence, safety, and compliance. Featuring a drag-and-drop visual form builder and program design tools, it allows businesses across a wide range of industries to easily create and manage company policies, audits, self-assessments, inspections, and checklists.

ActivityStudio streamlines operations, and ensures quality, safety, and compliance.
Within weeks of selecting and launching ActivityStudio, the Sizzling Platter team began using it to roll out and support new programs, both at the restaurant level and above, including:

Employee Pre-Shift Wellness Checks - Prior to starting their shift, every employee undergoes a health check for temperature and to screen for COVID-19 symptoms or exposure.
Health and Sanitation Shift Log – After each shift, managers conduct an audit to review and document that all required safety, health, and sanitation procedures have been completed. This includes performing employee wellness checks, the use of Personal Protective Equipment (PPE), hygiene such as handwashing, and social distancing practices, along with cleaning and sanitizing high-touch areas, restrooms, equipment, dining rooms, and back of house (BOH) areas.
Store Visit Assessment – Used by district managers to help locations prepare for health department inspections and brand standards audits.
Due Diligence Restaurant Evaluation – An in-depth site inspection used by the operations team when evaluating restaurants for acquisition.
Operational Efficiencies Scorecard – An assessment and evaluation of in-store operations and compliance with brand standards, for use when a new location is acquired.
Prior to launching ActivityStudio, Sizzling Platter programs were largely manual, and pen and paper based, which prevented the business from easily analyzing operational information and making real-time data-driven decisions.
"Of all the options we evaluated, CMX was the straightforward choice. They were best on price and best on service. They understand our business and ActivityStudio is ideally suited to our strategy. We are a fast-moving organization. The program was launched within two weeks and we are already seeing great value," said Morton. "ActivityStudio gives us a user-friendly, yet powerful platform to digitally transform our operations, quality, and safety efforts. We are also planning to digitize our HACCP-based line checks and monthly PCI compliance assessments with ActivityStudio."
"The last couple months have certainly been challenging for the restaurant industry. As we see more and more states transition through the phased approach to reopening - ensuring and maintaining employee and customer trust and safety will be essential for recovery. It's a huge point of pride for CMX to have been chosen to help Sizzling Platter during this critical time," said Mitch Porche, CMX's CEO. "Their longevity and focus on applying technology to achieve operational excellence is a great match for our organization and the CMX1 Platform. We look forward to working alongside them to help further empower their success and ensure quality and safety."
To learn more about ActivityStudio and how you can leverage it to achieve Quality and Operational Excellence, please visit the CMX website.
About Sizzling Platter LLC
Sizzling Platter is a proven restaurant management company founded in 1963, with more than 500 units globally. We are focused on adding and scaling segment leading concepts in outstanding demographic areas across US and select international markets. We have become a preferred partner for high growth, high return on capital brands looking to scale in our footprints. We strive to build lifetime guests across our concept portfolio utilizing lean enterprise techniques and technology to achieve operational excellence. We apply our systems, process, human capital, and passion for the restaurant business to quickly build scale within our target markets. For more information visit http://www.sizzlingplatter.com.
About CMX
Leading brands including Burger King, Taco Bell, Sonic Drive-In, RaceTrac, and Hasbro trust CMX's cloud-based Enterprise Quality Management Software (EQMS) CMX1 to help them achieve and maintain Operational and Quality Excellence. For over a decade, CMX has led the market with the most comprehensive, user-friendly, cloud-based EQMS platform for food and consumer brands. It's the only enterprise solution to effectively combine supply chain quality and operational excellence into a single, fully configurable operating platform.
For more information please visit http://www.cmx1.com or call 1-858-866-8888