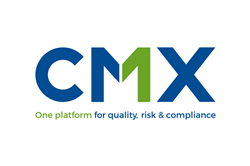 SAN DIEGO, Calif. (PRWEB) March 16, 2020
CMX, a leading provider of Enterprise Quality Management Solutions (EQMS) for supply chain and operational execution, announced today that its CEO and Founder Mitch Porche has been named a "2020 Provider Pro to Know" by the B2B publication, Supply & Demand Chain Executive.
The Pros to Know Awards recognize supply chain executives and manufacturing and non-manufacturing enterprises that are leading initiatives to help prepare their companies' supply chains for the significant challenges of today's business climate. The Provider Pros to Know awards honor individuals from software firms and service providers, consultancies or academia who helped their supply chain clients or the supply chain community at large prepare to meet these challenges.
Porche, who founded CMX in 2010, was chosen from among 500 nominations.
"I'm honored to be in the company of so many inspiring leaders on the 2020 Pros to Know list and I'd like to thank Supply & Demand Chain Executive for this outstanding recognition," said Porche. "Today's leaders in supply chain face many challenges. For us, at CMX, we continue to focus on enabling companies of all sizes to gain control and transparency over their supply chains, deliver quality products and services, and ensure compliance and consistent operational performance across their locations and facilities. Throughout my career, it's been very gratifying for me to see our customers excel across all these areas and find a faster path to sustainable growth and success."
Under Porche's leadership, CMX has established itself as a technology pioneer, providing integrated solutions for Quality and Operational Excellence in highly regulated industries. With its CMX1 EQMS platform, it has become a trusted provider for Burger King, Taco Bell, Sonic Drive-In, Arby's, Bulletproof 360, General Mills, Hasbro and other leading brands. CMX also provides solutions to several Testing, Inspection, and Certification (TICs) companies that are focused on supplier facility compliance and food safety, consistency, and quality.
"Mitch is a hands-on leader and customer advocate, and we are proud to see him honored for a career marked by ongoing accomplishments," said Jim Hardeman, Chief Product Officer, Director of Marketing, CMX. "Today, more than ever, we need supply chain executives like Mitch who lead with integrity and empower businesses to protect brand value and reputation as well as customer safety at scale."
"The supply chain profession is the most exciting it's ever been. With cutting-edge technologies designed to help the industry run smoother, easier and safer, coupled with professionals leading the charge for change, innovation and sustainability, it's an exciting time to be in the supply chain industry," says Marina Mayer, editor-in-chief of Supply & Demand Chain Executive. "These Pros to Know are the best of the best in their industry, and I look forward to seeing how they continue to revolutionize today's—and tomorrow's—supply chains."
Check out Supply & Demand Chain Executive's website at http://www.sdcexec.com for the full list of all of the honorees.
About Supply & Demand Chain Executive
Supply & Demand Chain Executive is the executive's user manual for successful supply and demand chain transformation, utilizing hard-hitting analysis, viewpoints and unbiased case studies to steer executives and supply management professionals through the complicated, yet critical, world of supply and demand chain enablement to gain competitive advantage. Visit us on the web at http://www.SDCExec.com.
About CMX
Leading brands including Burger King, Taco Bell, Sonic Drive-In, Bulletproof, General Mills, and Hasbro trust CMX's cloud-based Enterprise Quality Management Software (EQMS) CMX1 to help them achieve and maintain Operational and Quality Excellence. For over a decade, CMX has led the market with the most comprehensive, user-friendly, cloud-based EQMS platform for food and consumer brands. It's the only enterprise solution to effectively combine supply chain quality and operational excellence into a single, fully configurable operating platform.
For more information please visit http://www.cmx1.com or call 1-858-866-8888.